CREATE my own ART COLLECTION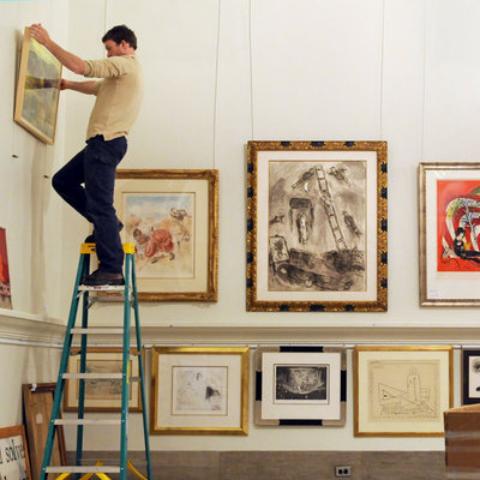 Owning art has long been a symbol of status, wealth and style, in addition to the great pleasure one can get from being a patron and supporter of the arts. Fortunately, nowadays you don't need to be incredibly rich to own a beautiful and impressive art collection. In fact, you can get started fairly easily without breaking the bank. You'll find some useful tips below that will help you do just that.
1. What Do you Like?
The first thing you need to do before you run out and start buying artwork is to get in touch with your artistic side. If you're a novice art collector, it's a good idea to talk to artists, visit museums/art galleries and conduct some research beforehand to learn about the different types of art.
2. Create Your Art Collecting Budget
Everyone's budget is different, especially when it comes to art collecting. For that reason, every art collector should set a budget before they start investing a considerable amount of time and money. This way, you can avoid overspending and acquire a significant collection over time.
3. Finding the Art
Figuring out the budget is only half the battle, next you need to find the venues where you can purchase art for your collection.
If you are looking for "high-end" art, Auction Houses are the place to go. Some of the most expensive works of art in the world are purchased at auction houses — Sotheby's and Christie's in particular, but there are others — Phillips de Pury, Bonham, Swann Auction Galleries, etc., on the scene.
There are also plenty of reputable websites where you can experience and purchase art:
- New York Artists Online (NewYorkArtists.net) – New York Artists Online is an online gallery and a major resource for artists, art educators and cultural enthusiasts. They have been around since 1999. They are a top ranking website for New York Artists and they are now welcoming worldwide artists as members.
- Saatchionline (saatchionline.com) – Each week, Saatchionline profiles an emerging artist who is already garnering attention for their work. This is a chance to discover some of the most exciting artists and to identify strong new talent.
- Artspan Contemporary Art (artspan.com) – Launched in 1999, Artspan is home to 4,000 artist websites which cover a wide range of disciplines and genres.
- Eyestorm (Eyestorm.com) – is a site that features contemporary art pieces from both up-and-coming and well-known artists in a variety of genres.
Art on Social Media Sites and Platforms
Social media marketing by artists is booming. Thousands of artists are posting their artwork on Facebook, LinkedIn, Pinterest and Twitter. Facebook and Twitter have specialized art groups. Do a search for the kind of art work you want, and chances are you will find a group of artists (anywhere from 500 to over 10,000 members) posting images of their work daily.
4. Secure your Artwork Collection
Like every good collection, it is important to take the necessary steps to safeguard it.
Source: newyorkartists.net