Get a MOTORBIKE LICENSE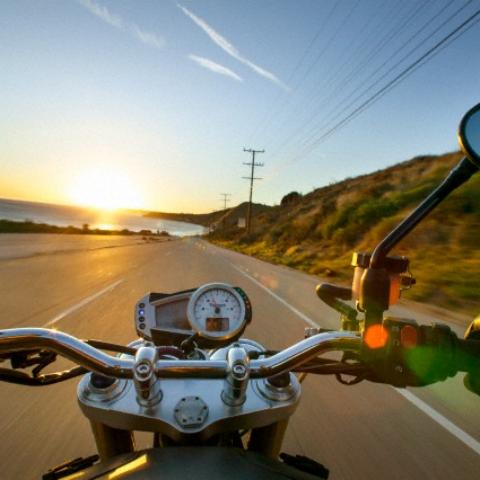 A motorcycle operator endorsement on your driver's license shows authorities you have successfully demonstrated the knowledge and skills needed to ride a motorcycle safely and responsibly. Getting a motorcycle license is similar to obtaining a driver's license; you must show that you comprehend laws and rules of the road by passing a written test and then demonstrate that you can safely maneuver the vehicle by passing a road test.
1. Study the motorcyclist handbook for your state's motor vehicle agency. This book contains answers to the questions that will be asked when you apply for your motorcycle learner's permit. The easiest way to get a copy is to download it from your state motor vehicle agency's website.
2. Apply for your motorcycle learner's permit. All states have a minimum age at which you can apply. You will be required to pay a permit application fee and must pass written and vision tests to receive one.
3. Practice with your learner's permit for the entire length of the time frame your state requires before applying to receive a motorcycle license. In some states the mandatory waiting period is 20 days, in others it's at least 6 months.
4. Visit your state's motor vehicle agency, fill out the motorcycle license application and pay the mandatory application fee. Many states provide this application form on their website.
5. Obtain a street legal motorcycle you can ride for your test, if you don't have one already. Cruiser models with a low seat height are ideal for taking your motorcycle test on because they have a lower center of gravity.
6. Verify you have insurance, valid license plates and registration for the motorcycle. You cannot take the test without a properly licensed motorcycle and even risk receiving a ticket if any aspects of your bike are not in compliance with state law.
7. Schedule a day to take your test. Check the weather forecast before you do, since you won't want to take this test in the rain.
8. Visit the parking lot of your state's motor vehicle department on a Sunday morning. The parking lot is where you will likely take the riding test. Practice braking, starting, stopping turning techniques while the office is closed.
9. Take the written and road test, if necessary. A passing score will allow you to complete the next step, which is paying the fee for a motorcycle endorsement and receiving your license paperwork.
10. Pass the final motorcycle license tests and get in line to have your picture taken. Should you fail any portion of the test you have a certain time frame during which you can repeat the testing process. If you pass, getting your photograph taken is the last step in receiving your state's endorsement.
Source: wikihow.com