Go STARGAZING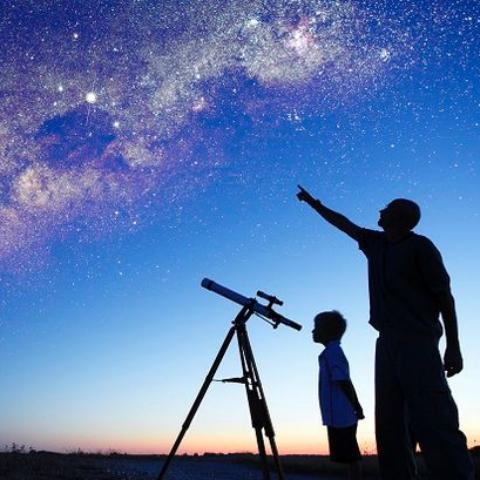 When was the last time you looked up at the night sky and were dazzled by countless constellations? Gazing at the stars, planets and distant galaxies is a universal, timeless pleasure, but it's one denied now to many of us.
A recent study estimated that 99% of the population of America and Western Europe never see a clear night sky unobscured by dust, smog and light pollution. In cities such as London, the firmament simply never darkens.
Now imagine yourself reclining in a desert oasis on a clear moonless night, the air still and silent as you stare up at velvety black heavens carpeted with stars. Linger long enough, and you'll see satellites inching across the sky and glimpse shooting stars (which aren't stars at all, but the dying embers of space debris as it breaks up on entering the Earth's atmosphere).
You'll spot the difference between stars and planets (stars pulse, planets emit a constant glow). Best of all, you'll feel calmed, humbled and uplifted -- and it won't cost you a penny.
It's no coincidence that some of the best places for stargazing are also among the most ravishingly beautiful: rugged mountain ranges, empty deserts and tropical islands. More and more hotels in these destinations are installing telescopes -- and in a few cases, amateur observatories -- to give guests a closer view.
The best time of the month for viewing is at or near a new moon. A bright moon will flood the sky with light, destroying the view.
Best Travel Destinations For Stargazing
1. Namibia
The arid desert air and endless vistas of the Namib Desert make for stunning night skies. One of the best places to aim for is Sossusvlei Mountain Lodge, which has its own observatory equipped with a 12in computerised telescope, plus a resident astronomer who is ready to help you photograph celestial images and burn them onto CDs.
The setting is magnificent: close to the world's highest sand dunes and surrounded by the largest private nature reserve in southern Africa. Each room has its own private telescope, and the lodge offers game drives, quad-biking and hot-air balloon rides.
2. Mallorca
Beyond Mallorca's tired and tawdry resorts lies an unspoilt, unpolluted island. Take, for example, the rural village of Costitx, home to an international observatory since 1991. Although not widely known, the Observatorio Astronomico de Mallorca has a working planetarium and offers public skywatching using telescopes sufficiently powerful to study Jupiter, Mars, Saturn, Venus and Mercury. The observatory offers viewings from 8pm every Friday and Saturday.
3. Chile
Several factors place northern Chile's Atacama Desert near the zenith of world stargazing sites: high altitude; near-zero light pollution; and the complete absence of moisture in the air -- the Atacama is among the driest places on Earth.
Astronomers love it. The spectacular mountain scenery is speckled with observatories, and the world's biggest radio telescope, Alma, is being built there at a cost of ?280m. In the charming oasis town of San Pedro, you'll find the five-star adventure lodge Explora en Atacama, an ideal base for both exploring the desert and gazing skywards. The hotel has three electronic telescopes, the largest of them 12in across, which are set up at night in the corner of a nearby field and can be used to view up to 68,000 stars.
4. Australia
High in the Flinders ranges of South Australia, a two-hour flight from Adelaide, lies the village of Arkaroola, one of the best amateur stargazing spots in the southern hemisphere. It has an observatory with two 14in telescopes and each evening, visitors can join a 90-minute guided tour that includes an introduction to the southern night sky.
Arkaroola Astronomical Observatory offers tours and the chance to sit in a "star chair" which resembles a dentist's chair with a telescope attached. There is plenty more to do by day, because Arkaroola is at the heart of a 240-square-mile wilderness sanctuary, where you can go walking, bird-watching, or explore the mountain scenery on a 4WD safari.
5. Hawaii
Along with their bathing costumes and sunscreen, visitors to Hawaii's Big Island should pack warm hats and fleeces, because one of the most memorable things to do is take a nocturnal sortie up Mauna Kea, the highest mountain on the island at 9,300ft. Here, above the clouds, the air is clear and dry and temperatures sometimes plummet to freezing.
The peak of Mauna Kea is dotted with a galaxy of telescopes, but visitors should head for theOnizuka Center for International Astronomy, which offers free views of the night sky at its visitor information station between 6pm and 10pm daily, using a variety of powerful hardware.
6. Kenya
Several African lodges promise the chance to sleep under a blanket of stars, and the most sensational is Loisaba in Kenya. It has two four-poster "star beds" under mosquito nets, positioned five miles apart and far from the lights of surrounding buildings. You can reach them either on foot, by camel, by horse or by 4WD, and they are looked after by Samburu tribesmen, who prepare your dinner and tuck you in at night. You can opt to spend all night in the open, or wheel your bed under a thatched roof.
7. Tenerife
The rugged interior of Tenerife in the Canary Islands is one of the best short-haul destinations for stargazers. Far from the crowded beaches, the island's serious astronomical action takes place at the Teide Observatory, 7,900ft up in the spectacular mountains of the Parque Nacional de las Canadas del Teide.
Source: huffingtonpost.com