Win a PHOTOGRAPHY CONTEST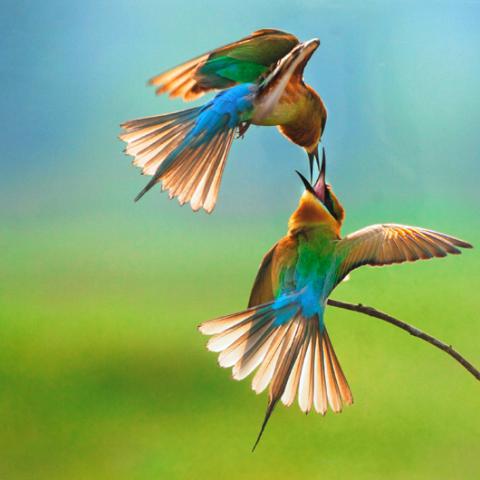 Some popular photo contests:
1. National Geographic – Your Shot
Calendar Date: Always Open
The National Geographic photo contest can either make you go "wow", or make you feel inferior if you are starting out with your DSLR. National Geographic is one of the more preeminent places to take your photos to. If any of your photos get selected, then it is the best badge to say that you have finally arrived. Your Shot is the magazine's photo community which invites regular submissions from photographers of all hues.  Whether a hobbyist or a pro, you can participate fearlessly. National Geographic editors review each submission carefully and the best 12 get picked in the popular Daily Dozen category.
2. The Smithsonian Phototography Contest
Calendar Date: Annual
Another renowned name, but one you may not immediately associate with photography. But you will be surprised to know that the Smithsonian magazine's photography contest has its own place. Standards are of course, very high. You can enter any of the five categories — the American Experience, the Natural World, People, Travel and Altered Images – to win cash prizes.
3. Wiki Loves Monuments
Calendar Date: September (expected)
It's printed in large letters — The world's largest photo contest. It is also certified by the Guinness Book of Records as the largest photo contest in the world. Not really surprising because it was organized by the Wikipedia community. The contest started off in 2010 in The Netherlands. By 2012, it was held across 35 countries and garnered 350,000 photo submissions. The international photo contest is meant to showcase the cultural heritage through monuments of each participating country.
4. Pixoto
Calendar Date: Weekly
Pixoto is a photography contest of a different kind, and one which makes it the easiest to participate. The photo service uses an algorithm called ImageDuel to submit each photo to a comparison and voting process. The photo with the best positive feedback (an image score) wins. There are dozens of categories and each top photo can win $150 every week. Others among the top 20% can get badges to display alongside their profiles and photos on the site.
5. ViewBug
Calendar Date: Always open
ViewBug is a photography community with a few contests of its own. There are premium (paid) and free contests to go along with the free and premium plans the site has for you to join. The free membership allows you to participate in the free contests. There were about 16 contests going on at the time of writing this article. Awards include photography kits, pro-memberships, and exposure. Some of the categories are unique – from photographing subjects floating on water to capturing scenes by looking up.
6. World In Focus
Calendar Date: Annual
PDN's World in Focus is a travel photography contest which is awarded separately to amateurs and professionals. There is an entry fee for this contest – amateurs and professionals. The contest is open internationally. The submission date for this year's announcements has passed, but it could be worthwhile to wait and prepare for next year.
7. No Man's Art Gallery
Calendar Date: Annual
The No Man's Art Slum Photography Contest is an annual photography contest held exclusively for kids in an underprivileged neighborhood in the world. The winning photo is exhibited in the art gallery of the organization. Children are taught how to use a camera in a workshop and then given a free rein to express themselves and their lives with photos.
8. World Press Photo
Calendar Date: Annual (February)
This is the definitive site for photo journalists to come and win an award for their profession. The World Press Photo Awards are the world's largest and most celebrated annual press photography contest. The non-profit organization holds the contest annually.
Source: makeuseof.com