Attend WORLD BODYPAINTING FESTIVAL, Austria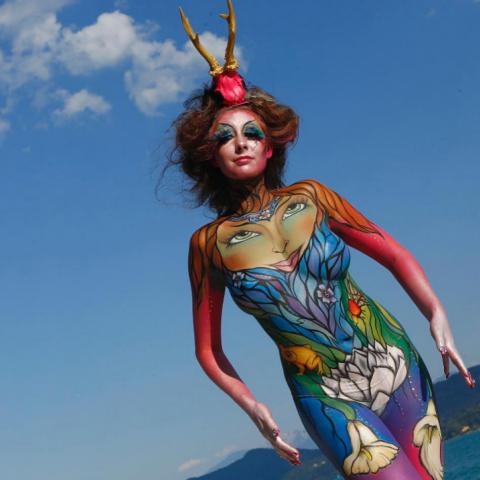 The World Bodypainting Festival is an annual festival. From 1998 to 2010 the Festival was held in Seeboden, Carinthia, Austria, near the Millst?tter See, on the third week of July every year. The new venue is P?rtschach at lake W?rthersee.
The festival lasts a week, of which the first four days consist of over thirty special workshops and lessons run by the WBF Academy, and the last three days consist of the actual festival event in the body paint city, which is open to the public without prior reservation. The festival event is open for both adults and children, and many families come there together.
The artists compete in many categories: brush and sponge, airbrush, and special effects are World Champion titles. At night time there is also a specialUV effects contest giving the title for World Champion in UV bodypainting effects. There is a World Facepainting Award and a special award for special effects face make up. There are also semi professional student awards. All categories have separate prizes and trophies. Artists can use either male or female models as they wish. All models must be wearing underpants while painted, but female models can go topless if they want. Many body painting models are unpaid and volunteer for the unique experience of transformation by the body painting artists.
Body painting is not simply painting a body, body painting is to replant the body into an entire scenery, to create a body scene with choreography and music. The WBF Institute of Sound is the community music project that developed through the World Bodypainting Festival. Every year the festival brings together international musicians, specialists in electronic music and technicians from many different countries and cultures. It is the festival's goal to develop the music scene like the community of body painters, photographers and models that has already existed for years. The creative thoughts of both groups can develop many new ideas.
The WBF Fashion Department focuses on body painting for fashion with many artists working alongside designers and with stylists around the world in the fashion industry.
Also the BodyCircus is one of the biggest event highlights in the festival week. Music, shows and costumes in the unique location of the medieval castle Sommeregg.
After the 13th year of the event in Seeboden, the local politicians decided not to host the event there any more. Alex Barendregt had to move on and chose another beautiful and charming town for the future to recreate and develop the next generation of the World Bodypainting Festival.
Source: wikipedia.org