Attend a concert at CARNEGIE HALL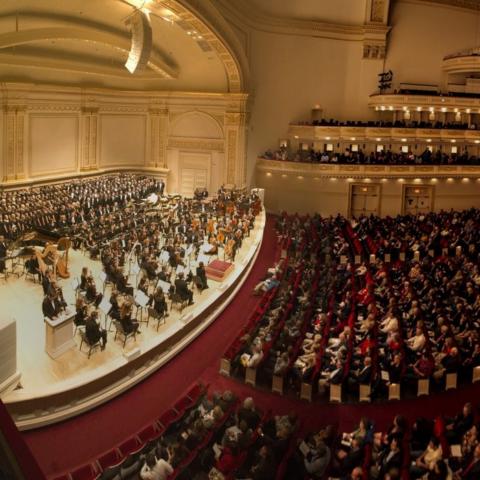 A National Historic Landmark since 1962, Carnegie Hall is one of the most prestigious venues in the world for both classical and popular music. In the Hall's 120-year history, its three distinct performance spaces - the Isaac Stern Auditorium, Zankel Hall, and Weill Recital Hall - have been graced by the world's finest musicians, with debuts by George Gershwin, Edgard Var?se, Duke Ellington, and Igor Stravinsky.
Why We Go: Performers and music lovers adore Carnegie Hall for the same reasons: the venue is large, the architecture gorgeous, and the acoustics simply breathtaking. As the late violinist Isaac Stern once observed, the hall "takes what you do and makes it larger than life."
- Performances: Widely regarded as the most prestigious concert stage in the United States, Carnegie Hall has, in its 120-year history, presented concerts by some of the finest classical and popular musicians in the world, including Peter Ilyich Tchaikovsky, Leonard Bernstein, the Beatles, Pink Floyd, and Chris Thile.
- Architecture: One of the last buildings in New York built without a steel frame, Carnegie Hall is rendered in narrow Roman bricks with details in terracotta and brownstone. With its white plaster, gray stone, round-headed lunettes, and Corinthian pilasters, the foyer recalls the Forentine Renaissance architecture of Filippo Brunelleschi's Pazzi Chapel. The subdued white and gold interior of Carnegie Hall is truly a work of art.
- History: Carnegie Hall boasts a rich and interesting history. First opened in 1891, the Hall was slated for demolition in 1960 due to a lack of funds. The building was saved, however, by a group of passionate artists led by Isaac Stern, who helped to pass special legislation that allowed the city of New York to buy the site for $5 million.
Inside Knowledge: Originally known simply as "Music Hall," Carnegie Music Hall opened on May 5, 1891 with a concert conducted by maestro Walter Damrosch and composer Peter Ilyich Tchaikovsky. In 1893, the Hall was named after Andrew Carnegie, who had paid for its construction. In a typical year, Carnegie Music Hall hosts 250 performances and an additional 600 events.
Do's and Don'ts:
- Do Look for Live Albums: Many notable bands and musical performers such as Chicago and Bob Dylan have released live recordings of their performances at Carnegie Hall. Be sure to pick up one by your favorite artist.
- Do Make a Donation: Carnegie Hall is able to offer the very best in musical performances because of your continued support. Be sure to make a donation, if you can. Every little bit helps.
- Don't Miss Citi Cafe: Before attending a concert at Carnegie Hall, be sure to pick up a snack from the on-site cafe, which is open one hour prior to concerts and at intermission.
- Don't Forget a Souvenir: The shop at Carnegie Hall, located on the second floor, adjacent to the Rose Museum, offers books, CDs, T-shirts, sweatshirts, and accessories. Don't forget to pick up a souvenir or a gift for a friend.
Source: nyctourist.com