Eat at the UNDERSEA RESTAURANT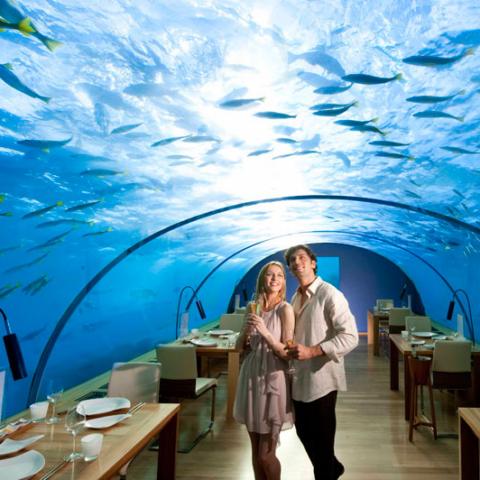 7 MOST INCREDIBLE UNDERWATER RESTAURANTS AND HOTELS
What could be more inviting than indulging oneself underwater – drinking fine wine, enjoying haute cuisine or simply relaxing in the lap of luxury – while fish swim past and air bubbles float serenely to the surface? Short of restaurants, bars and hotels ensconced on the surface of the moon, entertainment spaces don't come much more breathtaking. The magic of architectural brilliance and design ingenuity are certainly on the menu for anyone lucky enough to patronize one of these places. Here are seven spaces where vistas of submarine environments open up before the eyes of visitors in the ocean's depths.
7. Poseidon Undersea Resort, Fiji
Fiji's Poseidon Underwater Resort promises "the experience of a lifetime" – and we certainly wouldn't argue with such a bold claim from a luxury undersea complex featuring a restaurant and lounge as well as over 20 suites, situated in a 5,000-acre (20 km2) coral lagoon. The only thing is – it hasn't been built yet. While scheduled to be opened in 2008, the project is still in development – but it's only a matter of time. Nestled in up to 40 feet (12 m) of water, Poseidon will be accessed from the surface via large tunnels – which will also help to maintain air pressure – although one sunken bungalow will require a submarine trip to reach. Each 550-square-foot (51 m2) guest room will offer 270 degree views onto the cerulean sights outside, through thick acrylic windows. It's said the hotel is being built on land ready to be lowered in stages into the sea. A sub-oceanic paradise beckons – for those who will be able to afford it.
6. Al Mahara, Dubai, UAE
Billed as "the azure jewel in the Burj Al Arab's culinary crown", the Al Mahara (meaning "Oyster") is a lavish, underwater themed restaurant. Although not actually situated under the sea, it certainly feels as if it is. Guests to this venue, inside Dubai's iconic 7-star hotel, are seated around a large, cylindrical floor-to-ceiling aquarium, teeming with exotic fish. This acrylic glass tank holds around 990,000 litres (35,000 cubic ft) of seawater and stands as the restaurant's centerpiece – literally and thematically. The experience starts with a simulated underwater submarine ride from the reception to the dining room – a rather formal destination after the slightly kitsch voyage. It's all very oceanic, in a plush yet tranquil kind of way and, as dining experiences go, pretty unique. Once named one of the world's 50 best restaurants, Al Mahara lives up its reputation as one of the must-sees of the Burj Al Arab, completed in 1991. Sleek, inspiring stuff.
5. Jules' Underwater Lodge, Key Largo, Florida
Not a bar or restaurant but one step further, Jules' Underwater Lodge in Key Largo, Florida is the world's first underwater hotel. Opened in 1986, this wonder of design and engineering lies 30 feet (9 m) below sea level and can only be reached by scuba diving through the tropical mangrove habitat of Emerald Lagoon. Guests enter through a hatch in the bottom of the cottage-sized structure and soon emerge to find themselves in living quarters fitted with futuristic d?cor, with comforts ranging from hot showers and a stocked kitchen to music and movies. Then they can curl up in bed and watch the array of fish that approach to peer inside. This retreat began its life as an underwater lab off the coast of Puerto Rico before its conversion into a luxury hotel offering 42" windows on an awe-inspiring underwater world. Compressed air stops water flooding the rooms. An amazing, real deal experience.
4. Utter Inn, in Lake M?laren, Sweden
Another underwater hotel, Utter Inn (Swedish for "Otter Inn") may not hold the luxury allure of Jules' Underwater Lodge, but for pure quirky charm this strange species of underwater accommodation scores high. Located in Lake M?laren near V?ster?s, the structure consists of a typical red Swedish cabin visible above the surface, plus a bedroom 9 feet (3 m) below the water level. Guests are rowed out to this isolated island sanctum and left there. The tiny hotel room cum subaquatic observation station – basically a watertight box – contains twin beds with glass panels just inches away on all four sides offering a view into the fishy habitat outside. While the lake is no tropical paradise, the Utter Inn has the merit of being the brainchild of a local artist. Being so confined may not be to everyone's taste, but challenging such perceptions is kind of the point – and it certainly makes for a memorable experience.
3. Guinness Deep Sea Bar, Baltic Sea, Stockholm Archipelago
In terms of pure submarine entertainment design, nothing betters the Guinness Deep Sea Bar, for the simple reason that it's exactly that – a submarine. Created as part of Guinness' 2009 250th Anniversary celebrations by Jump Studio, London, the 36-feet-square (11 m2) interior of this custom built vehicle was "a fluid concept, constructed from GRP (glass reinforced plastic), that captures the feeling of being 'immersed in a dynamic, flowing experience.'" Think being a bubble in a pint of Guinness and you get the idea. The submarine was plunged into the Baltic Sea off the coast of Norway carrying a Belgian competition winner and two friends, who explored the ocean up to 70 m down surrounded by awesome seascapes. The designers had to meet strict marine specs and operational requirements while reflecting the brand statement 'Alive Inside'. Sipping some of the black stuff, we hope the passengers felt just that!
2. Red Sea Star, Eilat, Israel
Sixteen feet (5 m) beneath the waves of the Red Sea is an awesome underwater dining experience. A fantastic example of entertainment design, the Red Sea Star allows visitors to eat while observing the surrounding sea creatures and coral gardens through giant Plexiglas windows, day or night. Colourful fish swirl around outside in a kaleidoscope of colour, and the interior too is inspired by sea life, with everything from the stools to the lighting fixtures in the shape of species such as jellyfish and anemones. The detail of the d?cor is complemented by soft lighting, designed so as not to disturb the marine life. The Star – so called because of the shape of the floorplan – is accessible via a 50-foot (15 m) bridge and can seat up to 105. Built in 1996, its steel sections were shipped from north Israel, and the whole structure is weighted to the seabed to stop it floating. A "dry diving" experience, at once kitsch and serene!
1. Ithaa, Rangali Finolhu, The Maldives
When it comes to subsea eating experiences, nothing touches Ithaa (meaning "pearl" in Dhivehi). Part of the Hilton Maldives Resort & Spa, Ithaa was opened in 2005, offering guests the experience of being encased in a clear acrylic tube 16 feet (5 m) below the surface of the Indian Ocean. With 180-degree views, visitors are literally surrounded by fish, sharks and coral reef – so it's actually as much the sea life watching diners as vice versa! Reached via a wooden walkway and spiral staircase, the 16-by-29 feet (5-by-9 m) restaurant seats 14 people, for an experience intimate yet totally immersed in an underwater world. This unique venue – which takes aquarium technology to a whole new place with its transparent arch – was built in Singapore then transported to the Maldives, where it was sunk. Today, the crystal clear subsea drama seen through Ithaa's windows is simply mind-blowing.
Source: ntertainmentdesigner.com