Go to the KENTUCKY DERBY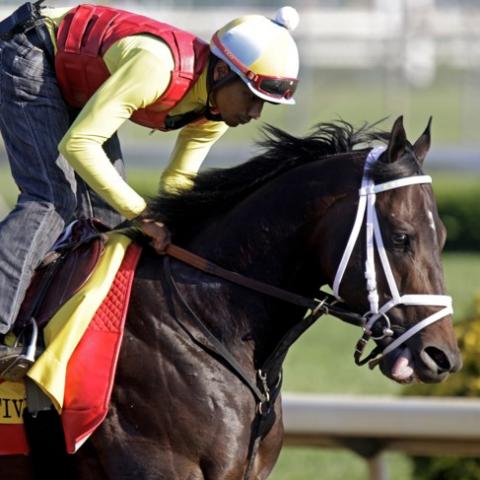 Held annually on the first Saturday of May, the Kentucky Derby horse race has been ran at Churchill Downs since 1875. Called "The Most Exciting Two Minutes in Sports," the Louisville, Kentucky race is part of the Triple Crown of horse racing. It is the most prestigious race in the sport of horse racing, and features 3-year-old thoroughbreds. The 1?-mile race is also known as the "Run for the Roses."
1. History
The Louisville Jockey Club, responsible for organizing the Kentucky Derby, was started by Meriwether Lewis Clark, Jr., the grandson of William Clark of the Lewis and Clark expedition. He was inspired by England's Epsom Derby, held annually since 1780.
2. Tradition
The unofficial drink of the Kentucky Derby is the Mint Julep. Consisting of bourbon, sugar syrup and mint, the iced drink is served most notably in a souvenir glass available with all previous winners printed on the cup.
3. Fun Fact
The Kentucky Derby earned its nickname "Run for the Roses" because of the blanket of 554 red roses traditionally awarded to the winner after the race.
4. Size
Covering 147 acres, Churchill Downs, where the Derby is ran, is among the most famous sporting venues in the world. It has a seating capacity of over 165,000 people.
5. Records
The fastest Kentucky Derby ever ran was by Secretariat in 1973. The Triple Crown-winning horse ran the 1? miles in 1 minute 59 seconds. the first Kentucky Derby was ran in 2 minutes 27 seconds.
6. Fun Fact
The Derby was first nationally televised in 1952. Two years later, the prize purse for the winning team first exceed $100,000.
7. Famous Ties
The Kentucky Derby was immortalized by counterculture author Hunter S. Thompson and illustrator Ralph Steadman in the 1969 article "The Kentucky Derby Is Decadent and Depraved."
Source: ehow.com