Hold an EVENT in the SKY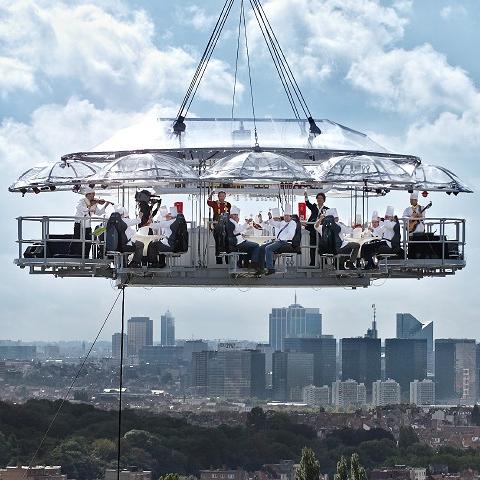 Events in the Sky enhances exciting locations and iconic events, offering unique entertainment to create a diverse and exhilarating experience that fully expresses the vitality of the food, wine and hospitality Australia has to offer.
Dinner in the Sky.com is the world's most unique dining experience, specialising in creating some of the finest private dining, cocktail parties, product launches, wedding receptions, bespoke event experiences on a global scale. With table activations across 27 countries team of experts will manage your event to completion, ensuring to produce a truly unforgettable and captivating experience.
Dinner in the Sky is an extra-ordinary experience with a culinary touch which allows people to dine up to 50 meters (164 feet) HIGH in the sky, where ever they want: in the city or in the country side, on sport grounds or in cultural site, private or public.
Where ever the location you want - we will deliver the experience - and let you and your valued guests enjoy pure 5 star luxuries with breathtaking views, fine foods and first class service from carefully selected suppliers, which enables us to provide a tailored service which is second to none.
Dinner in the Sky is listed as one of the 10 most unusual restaurants in the world.
Dinner in the Sky is available for a session of 8 hours. It can be divided or personalised according to the client's wishes at any location offering a surface of 500 m?. The table sessions operates with three staff in the middle (chef, waiter, entertainer) accommodating 22 exclusive VIP guests or two sessions per hour which will enable more than 350 people to access this exceptional platform.
Breakfast in the sky, lunch in the sky, cocktails in the sky, meeting in the sky, 'High Tea' in the sky… there is no limit to your imagination.
Dinner in the Sky offers an exceptional visibility for clients thanks to the underneath banner that can be customised with your logotype.
The Sky is truly the limit
Source: eventsinthesky.com