Ride on the SINGAPORE FLYER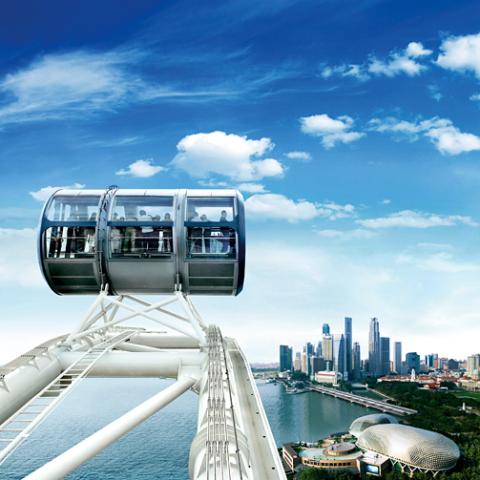 At a height of 165m, Singapore Flyer is the world's largest Giant Observation Wheel and also one of Asia's biggest tourist attractions.
Singapore Flyer was conceived and designed by Dr. Kisho Kurokawa and DP Architects, Singapore. It held its groundbreaking ceremony in September 2005 and was launched in 2008. It promises more than just a view, but a panorama that captures Marina Bay's skyline with a glimpse of neighbouring Malaysia and Indonesia.
Discover some fun facts about the world's largest giant observation wheel!
1. Vital Statistics
- Diameter: Singapore Flyer is 150 metres in diameter – about the length of 87 Singaporean men lying down head-to-toe. The average Singaporean man is 1.72m tall.
- Height: Singapore Flyer measures 165 metres in height – about the height of a 42-storey building. To amuse your child, describe the height as "31 male giraffes stacked on top of one another". The average height of a giraffe is 5.3 metres.
- Land area: Singapore Flyer stands on 33,700m2 or 363,000 ft2 – an area that will fit 172 tennis courts or 1,120 parking lots. A typical parking lot is 30m2.
- Capsule size: Each capsule is 4 metres x 7 metres – about the size of a city bus. There are 28 capsules. Each capsule can carry up to 28 passengers.
- Speed it travels: 0.24m per second, or 0.76km/h.
- Total capacity per revolution: 784 passengers.
2. Boarding & Flying
- Boarding: To board the capsule, you use the "step on platform" – it's like walking on level ground into the capsule. There are two synchronised doors and two platforms on each side – making it easy for the elderly and those in wheelchairs to get on and off.
- Rotation: Each rotation is about 32 minutes.
- Smooth Rotation: Singapore Flyer is designed and built to rotate smoothly under various wind conditions at high altitudes – thanks to precision wind engineering.
- View Radius: On board Singapore Flyer, you can see up to 45 kilometres away – that's 3 kilometres more than the entire length of our island city. From the Flyer, you'll be able to see Changi Airport, Sentosa Island, and even parts of Malaysia and Indonesia.
3. Design & Technology
- Design: Singapore Flyer is the brainchild of world renowned architect Dr. Kisho Kurokawa (Japan) and architectural firm DP Architects (Singapore). The design is notably "avant-garde" – experimental and innovative while emphasizing simplicity and harmony.
- Technological Wonder: Singapore Flyer uses a slim ladder truss rim – not the usual triangular rim used by other observation wheels.
Source: singaporeflyer.com