See a Canadian side of the Niagara Falls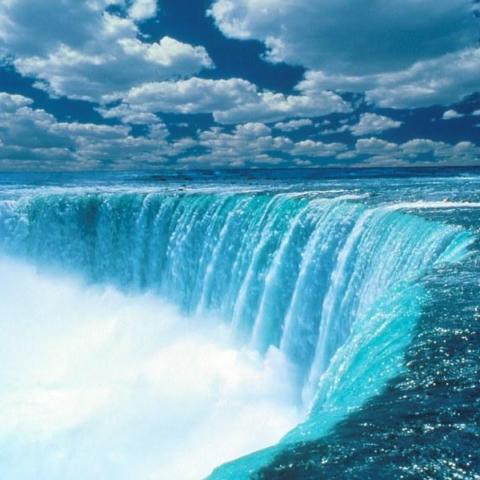 Top 12 Most Interesting Facts About Niagara Falls
1. Niagara Falls is the collective name for three water Falls that overlap the international borders of Canada and New York.
2. You are almost always guaranteed to see a rainbow if you're on the Canadian side of the Falls. To capture this beautiful phenomenon be sure grab your camera and visit from about noon until the sun sets.
3. Fish actually travel over the Falls. Don't believe it? Visit the Cave of the Winds for $10. This place will prove the fact and you might even meet someone who has actually been struck by a fish on his journey down the Falls.
4. Approximately 90% of the fish that travel down Niagara Falls survive. It is believed that the white foam from the rushing waters acts like a cushion for the fish traveling down the waters.
5. Back in the 1800's Niagara Falls was nearly frozen solid. The water was so frozen that only a small trickle of water traveled down the Falls.
6. About 28,000,000 (that's 28 million!) liters of water travel down Niagara Falls every second.
7. The first person to ever go over the Falls was a courageous 63-year-old teacher. She traveled down the Falls in a barrel.
8. About 20% of the drinking water in the United States goes through and over Niagara Falls. Yup, you have most likely drank water that came from the Falls.
9. Niagara Falls is not the highest waterfall in the world. There are actually about 500 waterfalls that are taller than Niagara. It's actually the combination of height and large volume of water that makes Niagara Falls a great tourist destination.
10. Although Niagara Falls isn't the tallest waterfall in the world, it may be the fastest moving waterfall on the planet.
11. Niagara Falls is the result of glaciers.
12. Parts of the movie Pirates of the Caribbean was filmed at Niagara Falls. Superman and Niagara starring Marilyn Monroe were also filmed here.
Source: justluxe.com