Stay at the ICEHOTEL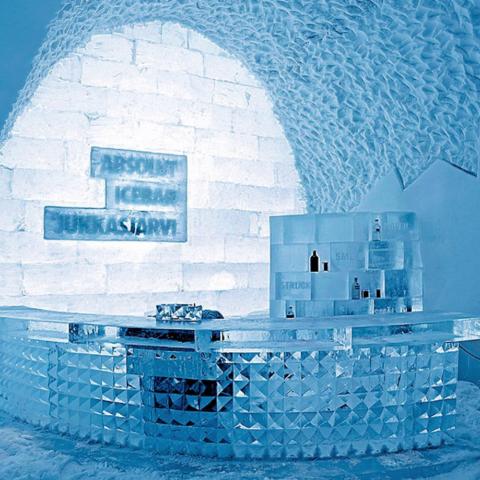 The Coolest Hotel There Is – ICEHOTEL
ICEHOTEL is a special hotel, as is evidenced by the name it is a hotel, made from ice.
Everything from the ceiling struts right down to the chairs is made from ice, the ice itself dredged in the hundreds of tons from a nearby river. ICEHOTEL is the original, spawning many parallels globally however it remains the greatest, an icon among icons in the world of hotels. But how did it come to be?
ICEHOTEL, when it exists, resides in the small village of Jukkasj?rvi, in Sweden. It began simply enough with the Japanese (of course!). In 1989 a group of Japanese ice artists assembled and created a beautiful exhibition of ice art. Then in the following spring of 1990 a cylindrical igloo(the best type of igloo) was constructed. Inside it the French artist Jannot Derid held an exhibition. Visitors came to see it of course, but then there were no spare rooms in the town, so they asked to stay in the ice-cylinder. They slept in sleeping bags on top of reindeer skin. Then, began ICEHOTEL.
From that informal opening ICEHOTEL has been constructed every single year using snow and ice from the Torne River. The snow and ice, once extracted are stored in a production hall capable of holding 10,000 tons of ice and 30,000 tons of snow. 1000 tons of the ice are used for construction whilst the rest is used for the elaborate designs in the ABSOLUT ICEBAR, a centre-piece of the hotel in which everything including the drinks glasses are made from ice. Snow is used to help strengthen the ice structure of the hotel and the rest of the ice is used in promotional events and product launches across the world.
Each Ice Hotel is a unique construction made of nothing but water in a few of its forms, a network of free-standing snow corridors and icy walls. Every year construction begins mid November and the structure stands completed from December to April before it is destroyed once more.
It is a truly beautiful structure with its own church amongst other things. Every year the hotel is different, with artists submitting design ideas for the interiors and a jury selects the best 50 to construct their imaginings. Once finished the hotel has amassed an area of over 6000m?, making it the largest snow and ice construction in the world.
So there we have it, a pure construction of ice containing nothing but the frozen Swedish water, with the exceptions of those repugnantly warm, fleshy meat bags that visit it. A marvellous place indeed, listed as one of the Seven Wonders of Sweden its cold has captured the hearts of the country, and for those cowardly meat bags there is warm accommodation next to the hotel.
Source: mostodd.wordpress.com