Tour HEARST CASTLE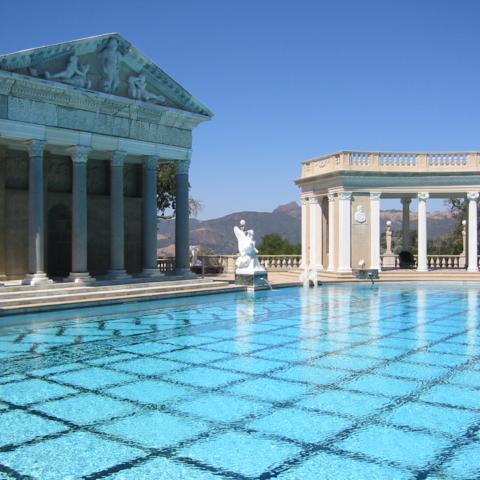 Mining tycoon George Hearst's 1919 request to architect Julia Morgan to "build a little something" resulted in Hearst Castle (hearstcastle.org), which by 1947 had become a sprawling 127-acre estate boasting 165 rooms.
Some of the fascinating facts that make this sight so significant:
- Built in 1919, it's one of the most iconic and impressive landmarks in all of California.
- William Randolph Hearst's father, George Hearst, originally purchased the land in 1865.
- William Randolph Hearst commissioned architect Julia Morgan to build the structure in 1919, though certain phases weren't completed until 1947.
- Hearst formally named the estate "La Cuesta Encantada" ("The Enchanted Hill"), but usually called it "the ranch."
- The property land spans 250,000 acres, 127 of which include gardens, terraces, pools and walkways.
- The total square footage of the buildings on the estate exceeds 90,000 square feet and feature 165 rooms.
- The Outdoor Neptune Pool holds 345,000 gallons of water and the Indoor Roman Pool holds 205,000 gallons of water.
- Charlie Chaplin, Cary Grant, the Marx Brothers, Charles Lindbergh, Joan Crawford, Clark Gable, James Stewart, Bob Hope, Calvin Coolidge, Franklin Roosevelt, Dolores Del Rio, and Winston Churchill were among Hearst's guests.
- In 1957, the Hearst Corporation donated the property to the state of California.
- Hearst Castle joined the National Register of Historic Places on June 22, 1972 and became a United States National Historic Landmark on May 11, 1976.
Source: explorethecaliforniacoast.com