Visit SALZBURG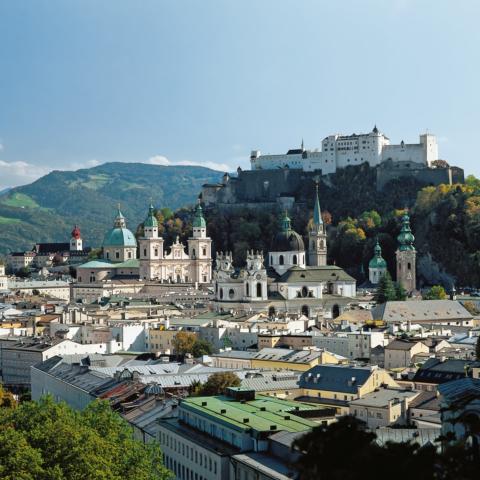 Salzburg city guide: top five attractions
1. Hohensalzburg Fortress
Towering over the Old town, Salzburg's hilltop medieval fortress-palace is its most imposing and best-known sight. Within the soaring walls and towers, you'll be able to trace 900 years of history, from the sumptuous gilded and carved prince-archbishops' apartments to the crumbling remains of a Romanesque church. On a clear day, the views over the Old Town and the surrounding countryside are worth the climb (or dizzying funicular ride) alone.
2. Salzburg Museum and Panorama Museum
Opened in 2007, Salzburg's newest museum is devoted to the history of the town and some of its most famous personalities, from opera singers to alchemists, composers to bankers.
The eclectic and well-labelled displays include engravings of Baroque gardens, portraits of the archbishop-princes who once ruled the area, ceramic tankards, tapestries and romantic 19th-century cityscapes.
A subterranean passageway, with fragments of Roman wall and models of Salzburg through the ages, leads to the Panorama Museum. Often overlooked by visitors, it's a rare delight: a wonderfully detailed circular view of Salzburg and its leafy surroundings painted in 1829 by Johann Michael Sattler.
3. Cathedral and Cathedral Museums
In a skyline punctuated by church spires, there is no mistaking the distinctive dome and towers of Salzburg's early Baroque cathedral. Inside, among the stucco swirls and paintings, is the Gothic font where Mozart was baptised, the sole survivor of the previous building.
Stairs to the right of the entrance lead to the Cathedral Museum, a rich collection of saintly statues, stained glass, paintings and religious objects such as bejewelled crosiers and lavish rosaries.
A quirkier delight is the Cabinet of Curiosities, where former archbishop-princes pondered life over displays of globes, armadillos and ivory crucifixes, among other objects. Budding archaeologists will enjoy the tinier museum in the excavations under the cathedral, where you can see parts of the old cathedral and traces of a Roman villa, including several mosaic floors.
4. Mozart Geburtshaus and Wohnhaus
Family portraits, musical instruments and tuneful audio-guides - the houses on opposite banks of the River Salzach where Wolfgang Amadeus Mozart was born and lived will teach you all you could ever need to know about Salzburg's most famous son, including how many days of his curtailed life he spent travelling (3720 in total).
5. Schloss Hellbrunn
Archbishop Markus Sittikus's 17th century summer palace still has traces of its formerly lavish Italianate d?cor to admire. Most visitors, however, are here for the gardens where the archbishop used to 'amuse' his guests by turning on jets of water concealed in seats, grottos and beside water-powered models – and the guides now do the same.
Source: telegraph.co.uk