Visit the CONEY ISLAND boardwalk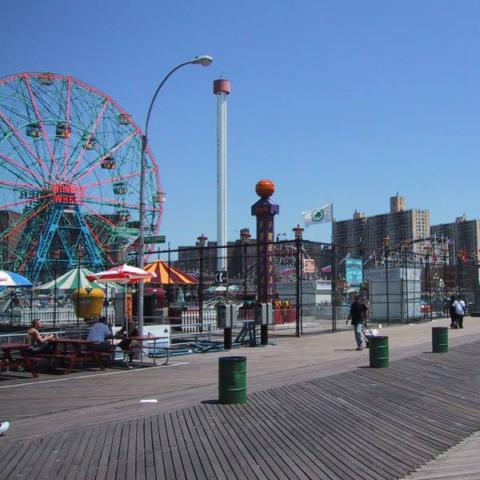 Ten things to do at Coney Island
1. Beach and boardwalk
For those whose like to embrace the city heat, this nearly three-mile stretch of sea and sand is free. But it does get crowded, so arrive early—beaches open 10am. The adjacent boardwalk boasts some of the best people-watching in all of New York, not to mention rides, corny carnival games, concessions (though not much beyond funnel cakes and hot dogs) and shops chockablock with graphic T-shirts, souvenirs and beach gear. You could spend the whole day meandering along the boardwalk, but wear sunscreen—there aren't many shady escapes.
2. Brooklyn Cyclones
There's one thing that neither Yankee Stadium nor Citi Field have: a view of the ocean that spans the distance of the outfield. MCU Park, home to the minor-league Brooklyn Cyclones, is mere steps from the beach and boardwalk, and is a fun and affordable way to enjoy a summer afternoon.
3. New York Aquarium
Coney Island is home to the only major aquarium in NYC. The 14-acre water world is open year-round and is home to more than 300 marine species. Current exhibits include outdoor touch pools where you can handle sea stars, turtles and more. And forget the Shamu show—acrobatic sea lions take center stage here, as they dance, dive and vie for your attention.
4. Coney Island Museum
Take a trip to a bygone age at this small, quirky institution. In typical Coney fashion, the museum takes a stroll down down memory lane with antiques and memorabilia from games and rides, like vintage bumper cars and eerie fun-house mirrors.
5. Nathan's Famous
Ironically, the Coney Island hot dog (a traditional frank topped with chili) is not the most popular item at Nathan's Famous, though the chain was founded here in 1916. The menu was built upon the classic all-American dog, used in the annual Fourth of July hot-dog-eating contest.
6. Totonno's Pizza
Hailed by many as the best pizza in New York, Totonno's is still slinging classic thin-and-crunchy crusts despite a large fire in 2009 that forced it to close. But the pizzeria reopened about a year later to bake ingredients imported from Italy in its old-fashioned brick ovens, much to the delight of the patrons and pizzaiolos, who can be heard matter-of-factly reciting the mantra, coined by New York Senator Chuck Schumer "Only God makes better pizza."
7. Coney Island Circus Sideshow
What was once known as a freak show has, in modern times, become a wondrous and curious attraction. But the jaw-dropping feats remain the same, with fire-eating, sword-swallowing, snake-charming performers still putting on an impressive, if somewhat nostalgic, show. Ticket prices are modest, and Saturdays in summer features a burlesque-tinged show after dark (10pm).
8. Ruby's
The oldest bar and grill on the boardwalk celebrates its 35th, and possibly last, year in business as developers begin to revamp and rebrand the beach with an "out with the old" attitude. Known to many as the best dive bar with the best jukebox in Coney Island, Ruby's houses the fun and rowdy spirits of the area's past and the beer-seeking beach bums of today. One safety tip: If a long day of drinking awaits you, relieve your bladder elsewhere. A patron fell—and arose unscathed—through the floorboards in the restroom a few years back.
9. Tatiana Restaurant & Grill
Over-the-top dcor and authentic Russian cuisine are commonplace in Brighton Beach, but Tatiana Restaurant also offers elegant dining and elaborate cabaret performances to boot. Those looking for a more casual experience can dine just steps from the waterfront at Tatiana Grill, which is no less elaborately decorated than its sister restaurant. Ship wheels, anchors, fish and blue hues dominate the nautical scene here. But don't let the contrast worry you: The food is consistently top notch across the board and both spots have held deep roots in the community for years.
10. M&I International Foods
For the residents of Brighton Beach, M&I is as customary as the corner bodega is to Manhattanites, except the prices are lower and the selection—and language—is mostly Russian. The loud and bustling food emporium offers a 50-foot-long display of cured meats and sausages and worldly items such as smoked fish, pork belly, pickled produce, flaky pastries and Russian beers. Those looking for a more relaxing day-trip to Russia can visit the straightforward caf on the top floor .
Source: timeout.com