Visit the LINCOLN MEMORIAL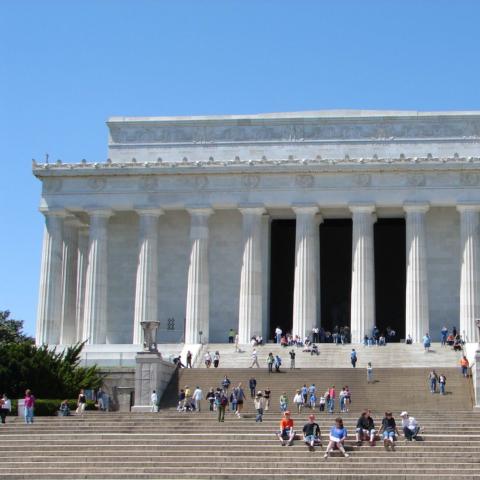 A symbol of unity and freedom, the Lincoln Memorial was built in Washington DC to honor the sixteenth president of the USA, Abraham Lincoln. Lincoln memorial located in Washington DC was completed in 1922. This historical monument is not only an important tourist spot in Washington DC, but also has served as an important gathering site for many cultural and political event and rallies including the protest against Vietnam War and the 'March of Washington' rally in 1963 to fight for the right of African Americans in US.
- The 58 steps of the Lincoln Memorial sit 1.9 miles directly west of the United States Capitol. 2 of these steps represent the 2 terms of office Abe Lincoln served as President and the remaining 56 steps represent Lincoln's age when he was assassinated.
- There are 87 total steps from the reflecting pool to the Lincoln Memorial which is equal to "fourscore and seven years" from Lincoln's famous Gettysburg Address.
- There is a typo in Lincoln's second inaugural address carved into the wall on the right wall of the memorial. Look closely for the word "FUTURE" that was originally carved as "EUTURE." It would have been too expensive to re-carve the entire wall so the mistake was simply filled in but is still noticeable.
- Urban legend has it that Abe Lincoln's hands are positioned to form the letters "A" and "L" in American Sign Language to represent Lincoln's initials. Many believe this to be intentional and not simply a coincidence to pay tribute to Lincoln for signing federal legislation that gave Gallaudet University, a school for the deaf, the authority to grant college degrees. The sculptor, Daniel Chester French, was also familiar with sign language because he had a son who was deaf.
- A second urban legend claims that the face of Robert E. Lee was carved into the back of Lincoln's head looking in the direction of his former home, the Arlington House, across the Potomac River within Arlington National Cemetery. Don't forget to stroll around the outside to the backside of the memorial for a fantastic view overlooking Rosslyn and Arlington Virginia where you have a clear view of the Arlington House.
Source: mapsofworld.com, thenowpass.com