Visit the OSCAR CEREMONY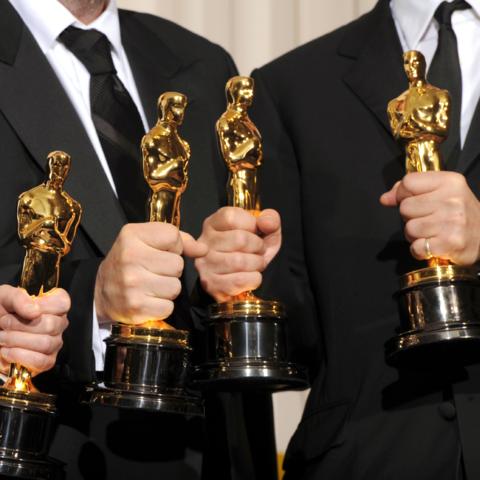 Interesting stats and facts:
1. Oscar winners don't really own their statues. Upon being presented with their award, winners must sign an agreement stating that they should they wish to sell their statuettes they must first offer them to the Academy for $1. If they refuse, they cannot keep their trophy. The rule has been in effect since 1950, which means that older statues do sometimes appear on the open market. Be prepared to pay a lot more than $1, though: Steven Speielberg bought Bette Davis' Oscar for $578,000 in 2001 and donated it back to the Academy, and Michael Jackson paid over a million for David Selznick's award in 1999.
2. The biggest loser in Oscar history is Kevin O'Connell, a sound re-recording engineer. Despite 20 nominations since his work on 1983?s Terms of Endearment, O'Connell has yet to win a single statue. O'Connell's last nomination came in 2007 for his work on Transformers.
3. To even have your film considered for a nomination, it has to meet some fairly exacting standards: It must be 40 minutes long; on 35mm or 70mm film, or 24- or 48-frame progressive scan Digital Cinema format at a minimum resolution of 2048 by 1080 pixels; and must bescreened for paid admission in Los Angeles for at least seven days.
4. That last point about screening in L.A. is particularly interesting as it held up the Charlie Chaplin's 1952 film Limelight from winning an academy award. When the movie was finally screened in L.A. in 1973, it was nominated and won for Best Original Score.
5. One of the stranger recipients of an Oscar was the British Ministry of Information for their 1941 docudrama Target for Tonight. Not everyday a country's wartime propaganda organ wins a major award!
6. There has only been one Oscar winner named Oscar: Oscar Hammerstein II, who won two for best song.
7. While the pomp and circumstance of the award ceremony are certainly legendary, the scale of them can be shocking. At the reception afterward, the assembled diners will be presented with 1,200 bottles of champagne, 1,000 spiny lobsters, 1,200 Kumamoto Oysters, and 18kg of caviar. Add in about 7 kg of edible gold dust for the 4,000 chocolate Oscar statues.
8. The Kodak Theater, which has been the most recent home of the Oscars, seats 3,332 people. Of course, not everyone shows up — which is why those famous seat-fillers make $125 an hour making the place look full.
9. In addition to its occasional snubbing of worthy films, the Oscars have also become somewhat notorious for overly long and emotional acceptance speeches. This came to a head in 2002, where the ceremony ran an astounding four hours and twenty-three minutes. Since then, the Academy has enacted the 45-second rule, where speeches longer than 45 seconds will be cut off by the orchestra — which is only slightly less awkward then watching full grown adults sob and ramble to their hearts content.
10. On the subject of acceptance speeches, the record for shortest speech is shared by William Holden and renowned director Alfred Hitchcock. They both simply said, "Thank you."
11. While the Oscar staute is perhaps the most recognizable icon of the event, the phrase "And the winner is…" is perhaps even more famous. Originally used by the award's presenters to announce the recipient of an award, the phrase was quietly abandoned in 1989. Since then, the preferred lead-in has been "And the Oscar goes to…", presumably to make the losers feel better.
Source: geekosystem.com