Watch CHERRY BLOSSOMS in Japan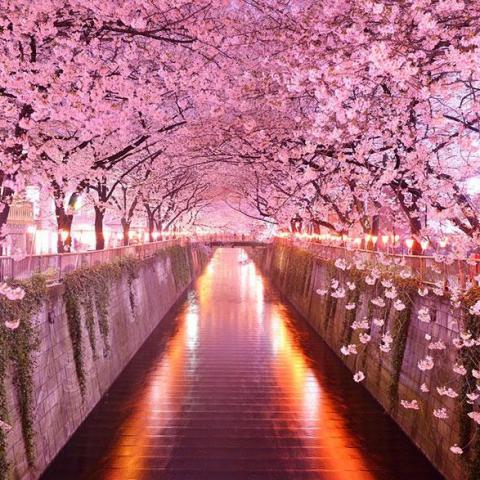 Below is a list of some of Tokyo's most popular spots for cherry blossom viewing (hanami).
1. Shinjuku Gyoen features more than one thousand cherry trees of over a dozen varieties, including numerous early and late blooming trees. There are spacious lawn areas, and the atmosphere is calm and peaceful. Thanks to the early and late blooming trees, Shinjuku Gyoen is a good hanami destination for those who miss the main season by a week or two.
2. 2One of Japan's most crowded, noisy and popular spots for cherry blossom parties, Ueno Park features more than 1000 trees along the street leading towards the National Museum and around Shinobazu Pond. Ueno Park's blossoms typically open 1-3 days ahead of the blossoms in other spots in the city.
3. Chidorigafuchi - Hundreds of cherry trees decorate the moats of former Edo Castle around Kitanomaru Park, creating one of Tokyo's most outstanding cherry blossom sights. Rowing boats are available for rent. Trees are lit up in the evenings. Many food stands can be found at nearby Yasukuni Shrine, where another one thousand cherry trees are planted.
4. Sumida Park - The park stretches for a few hundred meters along both sides of Sumida River with views of the Tokyo Sky Tree. Some food stands are available. Cherry blossom viewing can also be enjoyed from boats that cruise the river. Trees are lit up in the evenings.
5. Yoyogi Park - Over 600 cherry trees are planted around the spacious Yoyogi Park, offering pleasant picnic opportunities. A few food stands are available. The park gets closed during the night.
6. Asukayama Park - This hilltop public park above JR Oji Station is one of Tokyo's oldest, famous hanami spots. Today there are several hundred cherry trees, picnic spots under the trees and light up in the evenings.
7. Meguro River - About 800 cherry trees line Meguro River for several hundred meters and create an amazing sight. However, as a concrete canal, Meguro River does not offer a very natural surrounding for blossom viewers. During the Nakameguro Sakura Festival, the trees are lit up in the evenings.
8. Inokashira Park - There are a few hundreds of trees in this spacious, public city park, which features a central pond. Boats can be rented in order to view the blossoms from the water.
9. Koishikawa Korakuen - A few dozen cherry trees, including a beautiful, prominently located weeping cherry tree stand around Koishikawa Korakuen, one of Tokyo's most attractive traditional Japanese landscape gardens. Note that the weeping cherry tree typically reaches full bloom a few days before the other trees.
10. Koishikawa Botanical Garden is a spacious park with many cherry trees of different varieties and a Japanese landscape garden. Because it requires an admission fee and is a place of study, it remains relatively calm.
11. Aoyama Cemetery . The straight road, which leads through the cemetery, is lined and covered by hundreds of cherry trees. However, as a grave yard, Aoyama Cemetery does not provide the ideal surrounding for hanami parties.
Source: japan-guide.com