Be KISSED on top of a FERRIS WHEEL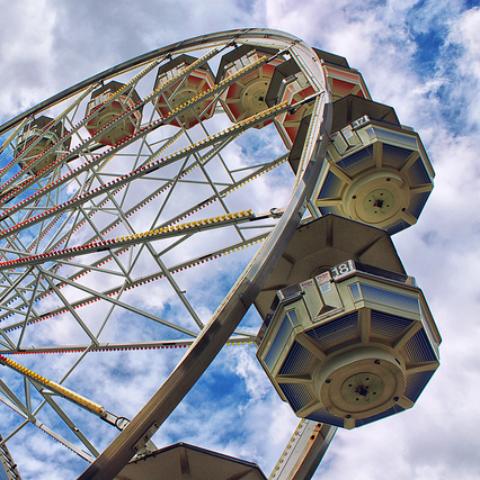 Giant Ferris Wheels Around the World
1. The Dubai Eye
The same week that Ferris wheel inventor George Ferris would have turned 154 years old—which Google is marking with a Valentine's Day-inspired amusement park doodle—the global race for the world's tallest wheel continues with new plans in Dubai.
Dubai's ruler, Sheik Mohammed bin Rashin Al Maktoum, approved plans to build a new Ferris wheel in the city that could become the world's largest at 688 feet (210 meters) tall. With an expected price tag of $1.6 billion), the city's government hoped the wheel, dubbed the "Dubai Eye," would showcase new ambition and tenacity after the global economic downturn.
2. Staten Stands Tall
For two years, New York City officials have been at work planning what they thought was the world's largest wheel, at 623 feet (190 meters)—but the just-announced "Dubai Eye" would outrank it. The plan is part of Mayor Michael Bloomberg's strategy to revive tourism and retail along the Staten Island waterfront.
3. London's Moneymaker
Cities have always loved major structures that attract both tourists and economic activity. Ferris wheels add uniqueness to a city's skyline while also offering visitors an opportunity that can be a large moneymaker. Before the global recession in 2009, the London Eye brought the city a one-year record of $25 million in profit. At 442 feet (135 meters), the Eye claimed the "world's tallest" mantle when it opened in 2000. Though it's since been eclipsed in terms of height, it remains a profitable attraction.
4. China's Star Attraction
The Star of Nanchang—China's answer to the Ferris wheel height race at 525 feet (160 meters)—was built in 2006. In the '60s and '70s, Ferris wheels became particularly popular in Asia, and many mid-sized towns in China and Japan built them for family fun and tourism.
5. Bespoke Design in China
Seeking to set a new type of Ferris wheel record, China has also been building a unique spokeless Ferris wheel in Changzhou. Currently under construction, the wheel's final height is still unknown. The country hopes that the novelty will convey an image of innovation and efficient design.
6. Singapore's High Flyer
Just two years after China started operating its world-record holder, the Star of Nanchang, it was upstaged when Singapore opened its 541-foot (165 meter) Singapore Flyer on April 15, 2008.
7. Vegas Spins The Wheel
Not wanting to be left out in the game of tourism superlatives, officials in Las Vegas approved a plan in 2011 to build a 541-foot (165 meter) Ferris wheel just off the city's main strip. When construction began, developers figured they would see the windfall of holding the world record for the world's tallest. Yet not even two years later, the planned projects in New York and, now, Dubai, have upstaged that effort.
Source: nationalgeographic.com