Build a SAND CASTLE with my kids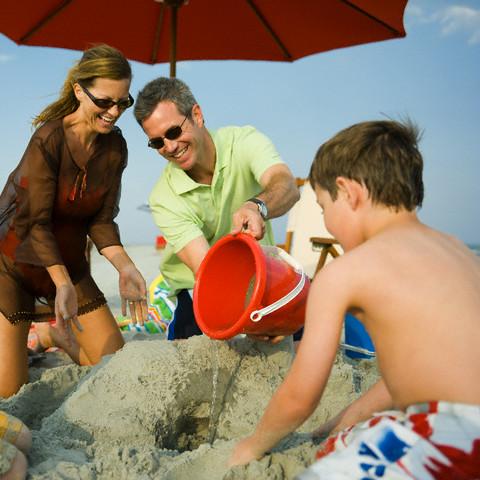 4 Rules of Castle-building
1. Use moist sand. Squeeze a ball of sand in your hand for a few seconds. "If the ball stays together when you roll it around in your palm, it's perfect sand for a castle," says Justin Gordon, an award-winning professional sand sculptor in Massachusetts. "The best place to find this sand is below the tide line," says Gordon.
2. Start with a densely packed mound of sand. To get the best density, build up the mound gradually: Add 6 inches of sand, pack down firmly with your fists, then pour half a bucket of water on top. (You can never add too much water; any excess will just drain out.) Repeat until you've reached your desired height.
3. Shave away sand in thin layers. This way, you'll have more control when you're carving design details. Plus, it's easier to take away sand than it is to add it back.
4. Work from top to bottom. You'll lessen the chance that falling sand or an ill-placed knee will ruin your work. As you create finer details like windows and stairs, blow away excess sand using a straw.
Source: redbookmag.com