CUDDLE by the FIREPLACE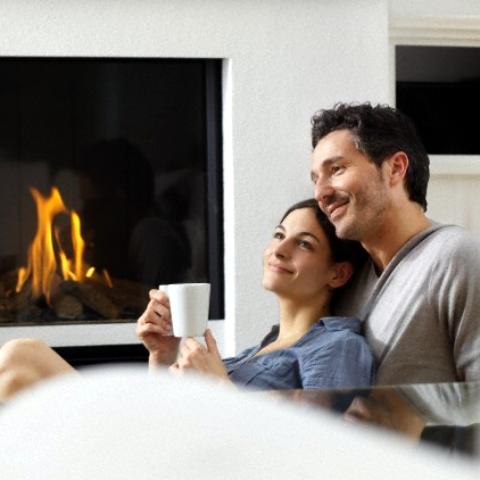 It's sleeting, it's freezing, it's snowing…and we're all tired of it. We want a cozy seat near a warm, crackling fire – preferably one with hot toddy service and some delicious desserts. Just in time for the Big Chill and Valentine's around the corner, here's a gallery of America's coziest hotel and restaurant firesides – from the iconic Bowery Hotel in Manhattan to the snowy Rocky Mountain peaks.
1. Triple Creek Ranch, Darby, Mont.
The Bitterroot Mountain view is half the pleasure from this fire-warmed lobby lookout in a premiere Montana luxury lodge. The other half comes from the luxury-included hospitality, personalized service, and cozy furnishings that make you feel like you're in your BFF's mountain lodge -- and your BFF's a billionaire.
2. Woodstock Inn Resort & Spa, Woodstock, Vt.
Located in the charming Vermont town that was beloved by a Rockefeller, the Woodstock Inn is somehow elegant yet bohemian at the same time. Every corner of the hotel, from the lobby to the bar to the courtyard spaces, manages to combine traditional elegance with bohemian insouciance.
3. Sorrento Hotel, Seattle
As one of the rainiest cities in the U.S., Seattle would obviously have to have some blissful little nooks to escape gloomy weather. The Fireside Room at the Sorrento Hotel is one of the best and most beloved. Located in the city's original boutique hotel, it's a highly popular date spot, with classic wood paneling, yesteryear d?cor and the fireplace with its unique tile inlays as the focal point.
4. Different Pointe of View, Phoenix
The patio bar area of the signature restaurant at Pointe Hilton Tapatio Cliffs is exactly where you want to go with a date or good friends or anyone whose company you truly enjoy. Because between the desert climate, the stargazing, the fire and the absolutely delicious liqueur-infused marshmallows pictured, you'll wind up completely losing track of time.
5. Antica Pesa, Brooklyn, N.Y.
When not in Rome, pretend you are, at the second outpost of Antica Pesa – just opened in Williamsburg, Brooklyn, and a sweet little sister-venue to the original Italian landmark. Have a glass of wine by the fire, surrounded by leather-bound books and decorative wine bottles and more than a few Brooklyn hipsters and Manhattanites on date night.
6. Dandelion Pub, Philadelphia
With a Rittenhouse Square address and a Stephen Starr pedigree, this gastro-pub has a lot to recommend it…but when instinct alone drives you, and it's the middle of winter, it's the fireside couches that'll draw you like a magnet. And good news: A full afternoon tea menu is served, so you can hole up in here pretty much any time after 11 a.m. and be cozy-warm, well fed and drinking Dark 'n Stormys (or Pimms) till closing time.
7. Devil's Thumb Ranch, Tabernash. Colo.
If you love Colorado, this under-the-radar Rocky Mountain getaway is one for the must-visit list. The skiing's great, the warm service and warmer beds are enough to make it a local "stay-cation" favorite, and the fire burns merrily in the dramatic stone fireplace for many months out of the year. This is the kind of getaway that makes even the slickest city-dwellers dream of packing it all in and moving to the mountains.
8. Bigfoot Lodge, Los Angeles
So, you didn't know that Los Angeles had its own log cabin lodge complete with Sasquatch signs and a crackling fire? Then you're out of the loop! This Los Feliz spot is a date-night standby, and a favorite of every LA stereotype from college kids to hipsters to "industry" up-and-comers. Toasted marshmallow cocktails are the poison of choice, and every social nice is equally shocked and amused by the taxidermy menagerie surrounding the fireplace.
9. West Shore Caf? & Inn, Lake Tahoe, Calif.
Though the weather conditions are rarely as frigid as Montana, or even New York City in some years, Tahoe gets plenty of snow and some dark days in the winter. In response, local venues like the West Shore Caf? crank up the heat and show some California love. Live music on weekends and full moon parties cater to night owls, but by day, the Fireplace Room welcomes families, Scrabble junkies and snow bunnies looking for an apr?s ski warmer.
10. Eventi, New York City
Vintage charm has its place in ski lodges, but in Manhattan, let's face it, everyone wants to check out the latest thing. Especially when it's a beautifully decorated, uber-chic jewel of a place. Case in point, EVENTI – the latest offering by Kimpton Hotels – and its jewel-like Living Room. This is the hotel's social centerpiece, and features a glowing fire surrounded by burnished screen paneling.
Source: abcnews.go.com