Go CHRISTMAS CAROLING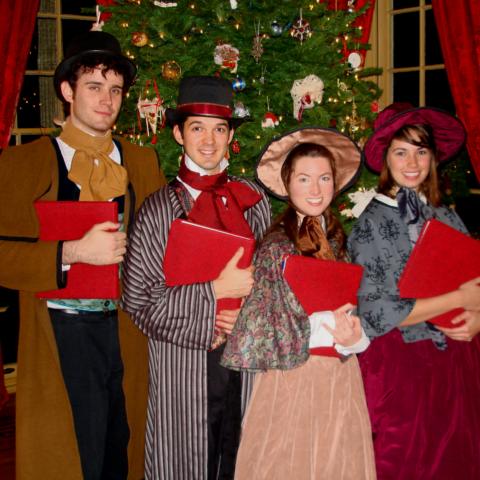 Out of all the Christmas traditions, Christmas caroling may be the most enduring. Usually done in groups of family and friends, caroling is a time-honored tradition that is fun for the performers and recipients alike. There are some ways, however, to make it an even more pleasant experience, especially if you live in a cold climate. Read on to find out how to make the most of Christmas caroling.
How to Go Christmas Caroling
1. Gather together some friends and family. A group of people singing Christmas songs is fun, but one person trying to carol Christmas songs is sad and rather strange. Try to find at least one or two really good singers to join your group, as they can carry the weaker singers.
2. Dress for success. Wearing festive clothing doesn't really work if you have to cover it all up with heavy coats. Instead, invest in some Santa hats and red and green scarves to give your caroling party some pizazz and ramp up the Christmas spirit.
3. Add some music. Give each singer a string of bells to jingle, or just one bell each if you have a large group and you don't want to wake up the entire neighborhood.
4. Stick to the classics. Sing songs that everyone knows, such as "Jingle Bells" and "Frosty the Snowman". "Silent Night" is a great song to end with, as is "We Wish You A Merry Christmas." Everyone knows and loves those songs, but not everyone will appreciate "Ava Maria" when sung by a group of mediocre singers with numb tongues.
5. Bring supplies. Be sure to pack a backpack or two with flashlights and some thermoses of hot chocolate and cider. You might want to pack some extra gloves in case someone forgets to bring some.
6. Plan your route carefully. You don't want to end your caroling far from home. Choose a flat, circular route that is easy to walk in a safe, well-lit neighborhood.
Source: ehow.com