Rent an RV for a FAMILY VACATION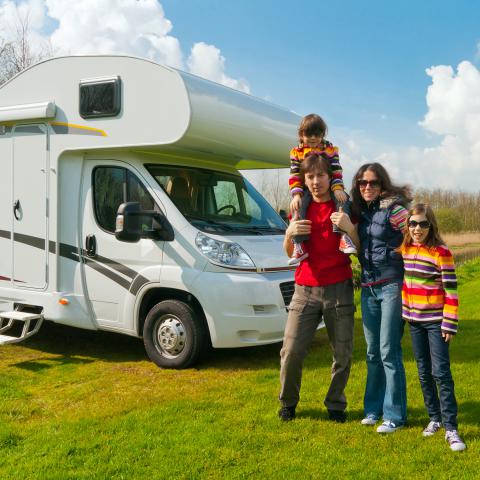 Ah, life on the open road! What's not to love? There's the freedom, the adventure... the kids fighting in the back and demanding to know if we're "there yet."
For those of us not skilled in the ways of the RV road warrior, renting an RV and planning a successful vacation can be tricky. Jaimie Hall Bruzenak, an RV lifestyle expert, author of "Support Your RV Lifestyle! An Insider's Guide to Working on the Road" and runs the site RVLifestyleExperts, shares practical first-time RV tips for families.
1. Would you recommend renting an RV as a good vacation choice for families? If so, why?
An RV rental vacation is a good choice for families. It is usually less costly. You save money by preparing meals in the RV and spending less per night to camp at an RV park or campground than you would at a hotel. Also, children can be easily entertained while traveling. It's also more convenient. You can stop easily for bathroom breaks without getting out of the RV. The children's toys, clothes, washroom and snacks are right where you are exploring and playing, so there's not need to return to a hotel. There are lots of fun things to do right at a campsite while parents relax. If you visit a national park, you can camp there and save driving time, plus they have activities and programs geared to children. Other families will probably be camped where you are too, making it even more fun for the children.
2. I'm interested in renting an RV for my family, but I don't know where to start. What's the first step?
Decide if it makes sense to rent an RV at home or to fly closer to your destination before renting one. If you have a short period of time and want to explore another part of the country, flying there gives you more time to vacation.
You'll also need to decide if you're looking for an RV based on price or features. A few companies do rent high-end RV's, but most families are looking for a lower-price unit. You can also Google "RV rentals" in your town or your destination for a list of companies. You can also check out local rental companies with the Better Business Bureau to make sure they are reputable. Cruise America and El Monte have a lot of RV's on the road and many locations to choose from.
3. Do I need a special license or any training to rent an RV? Is the RV difficult to operate?
You do not need a special license. Most people rent a Class C, which is on a truck chassis so it's like driving a truck. You do need to be aware of your height and length to avoid overhead obstacles and allow enough room to turn. Dips into parking lots and gas stations can cause you to drag if you have a long overhang in the back. You want to choose an entrance that isn't too steep and approach at an angle, if possible. Also, be sure you can see how you will get back out of a gas station or parking lot before entering. When going to an RV park, double check the direction with them and don't rely totally on your GPS. GPS devices have been known to take drivers down dead end streets or down the wrong roads.
4. RV's look like they have limited space. Will my family feel cramped spending a week in one?
RVers, at least in nice weather, live and play outdoors. You'll probably want to eat outside, maybe play games outside on the picnic table or take advantage of the recreation facilities where you are staying or visiting. The RV is primarily for moving from place to place, sleeping and using the bathroom facilities if no restrooms are available. Unless you run into terrible weather for several days, spending a week in an RV should not be a problem. Parents should be prepared with decks of cards, board games, DVD's and books for children to read in the event there is extended bad weather. Plus, have some alternative activities in mind, if possible. Each person should have a place for their things that is separate from other family members -- a drawer, a section of the closet or a shelf.
5.What are the best kinds of destinations to visit with an RV?
National and state parks are wonderful places to visit in an RV. They usually have campgrounds and plenty to do. An RV vacation is a chance to see natural wonders and historic places. The West is an excellent region for an RV vacation. You'll be driving back roads, so it's easy to pull over for snack or lunch time even if there are no restaurants are in sight. In some areas in the East, conditions will be more crowded, and it won't be as enjoyable driving -- especially in beach areas. Additionally, some people enjoy going to an RV park or resort that caters to children and has a swimming pool and activities for kids.
Source: familyvacationcritic.com