VOLUNTEER at an animal shelter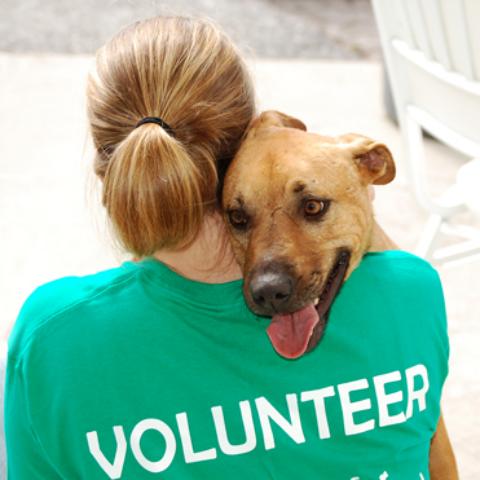 Here are some of the volunteer programs that may interest you:
1. Dog Coach - Socialize and spend quality time with the dogs. Work to increase adoptability of the dogs in and out of their cages.
2. Cat Care - Socialize and groom the cats, give them a break from the cage in the cat cuddle rooms. Help maintain care of cats by refreshing and replenishing cages.
3. STAR Dog Trainer - Work with more challenging dogs that need some specialized training to help them get adopted; learn about behavior modification and dog training.
4. Bunny/Small Animal Handler - Socialize the bunnies and other small furries.
5. Foster Parent - Open up your home and heart for a short time to underage, sick, or frightened animals. Give an animal a place to stay if the kennels are full.
6. Adoptions Assistant - Help the adoption counselors match people with pets including walking around the adoption floor, greeting customers and answering questions. Help with profiles of animals on Petfinder.com. This can include photographing animals, writing the narrative, or updating information. Be the contact person for a particular dog or cat that interested parties can contact for more info on that pet.
7. Grooming - Provide grooming services to animals, from bathing to as required. Supervise groups of one time volunteers in grooming dogs.
8. Offsite Educational, Fundraising or Adoption Events - Spread the word about the shelter and animals for adoption at community events, schools and pet stores.
Source: animalrescue.org