Dive BELIZE's Barrier REEF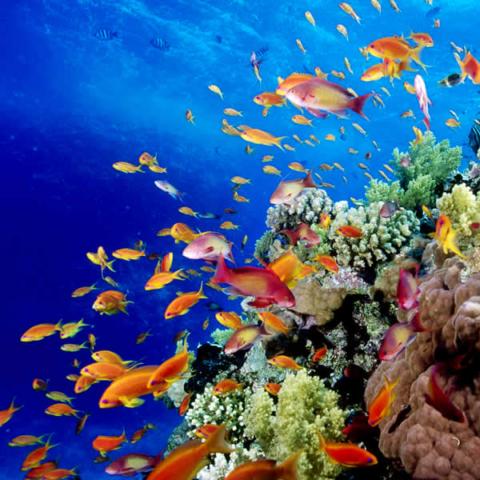 The underwater world in Belize is spectacular. It boasts the second largest Barrier Reef in the world. But when you take into consideration that the Australian Barrier Reef, the largest in the world, is mostly dead, that leaves Belize's reef as the largest living Barrier Reef in the world. Whether you are scuba diving or snorkeling, you will be amazed at the profusion of color and life that you will find. The water is always warm and the visibility is outstanding.
Belize's coastline is rich in marine life and variety of habitats, the majority of which are under protected status.
 The coast offers a range of diving with pinnacled mid-reefs, shipwrecks, shallow coral gardens and steep walls.  About 70 types of hard corals, 400 species of fish and other diverse marine life add color and life.  There is something for the leisure snorkeler to the experienced diver.
The northern barrier reef has the country's most popular dive and snorkel site, Hol Chan Marine Reserve & Shark Ray Alley.  There are also many other excellent dive sites to explore.  As you move south along the barrier reef the inner reef changes from grass beds and patch reefs to an interesting series of sinkholes, pinnacles and faros (shelf atolls).  The southern barrier reef is relatively unexplored with 2 of the best marine parks in the country, Southwater Caye Marine Reserve and Laughing Bird Caye National Park.  The south also harbors migrating whale sharks in March, April, May and June.  Within the barrier reef lay over 200 islands.  The majority are mangrove islets which act as important fish nurseries.  Some are coral islands with reefs just off the beach good for snorkeling.
3 Coral Atolls & The Blue Hole
East of the barrier reef lay 3 of the 4 Caribbean atolls; their total surface area of reef is equal to that of the entire barrier reef itself!  Atolls are basically groups of islands and coral reef that encircle a central lagoon.  The circular reef is characterized by steep walls with a few scattered shipwrecks.  They are known for excellent visibility and some of the best walls in the country.  The relative isolation of the atolls along with the reefs and nutrient rich lagoons produce a diversity of marine life.  Turneffe Islands Atoll has numerous mangrove islands and vast sea grass beds; the Elbow on the southern tip is arguably Belize's best dive.  Lighthouse Reef Atoll supports a diverse living reef with well developed spur and groove canyons and unique arc shaped reef segments.  The Blue Hole and Halfmoon Caye also lay here.  Glover's Reef Atoll is surrounded by broad, well-defined reefs of living coral and is a UN World Heritage Site.  The many unique dive sites on these atolls make them popular with divers.  A few dive resorts are perched right on them while many dive shops from other destinations offer day trips to explore them.
Source: discoveringbelize.com