Dive at CAYMAN ISLANDS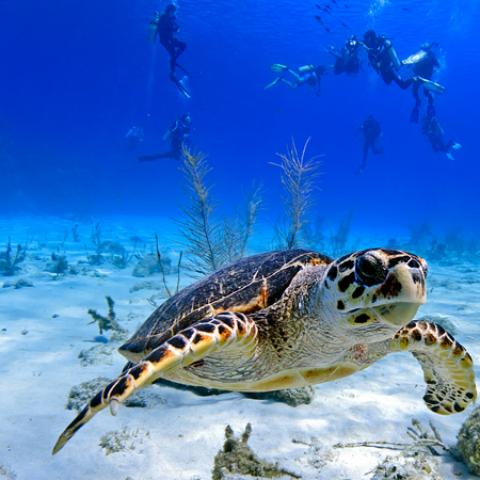 Outstanding coral reefs and clear waters have made the Cayman Islands one of the world's leading scuba diving destinations .
The Cayman Islands are a British overseas territory  in the western Caribbean Sea, and is made up of the islands of Grand Cayman, Cayman Brac and Little Cayman. The warm, calm waters, 100 ft. plus visibility and breath-taking variety of marine life offer a world of exciting logbook entries.  Each island offers very different diving adventures for divers of all levels-from novice to Nitrox and Tec diving.
In Grand Cayman, there are more than 159 dive sites. It's all here: steep, deep walls adorned with sponges and corals in a stunning array of colours; shallow reefs filled with schooling and solitary fish and small invertebrates; and wrecks featuring photogenic structures and curious marine residents.
Little Cayman, at only 10 miles long and a mile wide, offers that rare combination of sun-blessed solitude, glistening beaches and miles of untouched tropical wilderness. Here, shy iguanas and rare birds outnumber humans. Booby Pond Nature Reserve, 203-acre bird sanctuary, is home to 5000 pairs of nesting Red Footed Boobies.
What to see:
1. Grand Cayman for the world's best 12 Foot Dive - unique Stingray City. The fish are unafraid of divers, knowing no threat is posed. They don't flee when approached. Instead, silvery Tarpon hover motionless in mid-water, surrounded by glittery Silversides, and French Angelfish fin in close to check you out. Huge Barrel Sponges and swirling schools of fish are common off Grand Cayman. These reefs are unspoiled, gorgonians and hard corals thrive in the clear, warm waters.
2. USS Kittiwake was a United States Navy submarine rescue.  She was scuttled on in January 2011 near Seven Mile Beach on Grand Cayman and is resting upright in 62 feet of water on a sandy bottom. You can snorkel overhead and see the main decks and topography of the ship plus take a look down the smoke stack that opens up straight down to the bottom of the hull and the engine rooms. There is no end of rooms to explore this wreck, that will soon enough become an artificial reef, enhancing the marine environment with new fishery stock and habitats for marine life.
3. The Mermaid, Amphitrite, has been overseeing Sunset Reef in Grand Cayman, for seven years now. At the time, General Manager of Sunset House, Keith Sahm, purchased the mermaid from Simon Morris, a famed sculptor from Canada, to ease the pressure off the resort's famous and delicate reef. Amphitrite is actually a 9 foot tall bronze mermaid and was carefully put underwater at the edge of Sunset Reef. Today she sits in 55' and keeps an ever present watch over the reef.
4. Little Cayman - Bloody Bay Marine Park is one of the world's truly legendary dive sites: the sheer coral wall begins at 20 ft. and plunges to 6000 ft.
5. Cayman Brac - the MV Captain Keith Tibbetts is the only divable Russian warship in the Western Hemisphere and was intentionally sunk in 1996 as an artificial reef.
Source: scubadviser.com