Go HELI-SKIING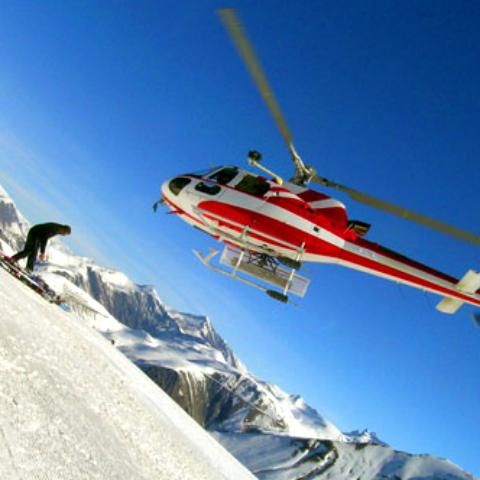 Why You Need To Try Heli-Skiing
If you love to ski or snowboard, there is nothing better than heli-skiing. It's that simple.
The sport promises virgin snow, breathtaking surrounds, spacious runs that are kilometres in length and, best of all, no lift queues!
Commercial heli-skiing first took off in Canada in the mid-sixties. Today, hundreds of heli-skiing companies help avid skiers and snowboarders enjoy isolated snow regions that were once considered inaccessible.
Hiring a helicopter ain't cheap, but if you ever find yourself with a spare $10k, this list points out the world's best hidden heli-skiing destinations: places you'd least expect to ski or ride, with or without the help of a chopper.
1. The Indian Himalayas
With its reputation as a humid, overcrowded mega-megalopolis, India is one of the last destinations most folk would bother to take their snow boots. Dedicated skiers, however, have known about the magic of skiing in the Indian Himalayas for decades. The north is where the snow action is at, and heli-skiing tours have recently started to operate in the regions of Gulmarg and Himachal.
It's surreal to go from the mayhem of New Delhi to the serenity of the north. Apex rooves, mountainous backdrops and the lack of constant traffic give it a Swiss feel. The only drawback is that India and Pakistan have been in conflict over ownership of one of the borders near Gulmarg since the 1900s, so expect to see army convoys all over the place. If that's not your cup of tea, head to Himachal instead.
For more: check out himachal.com and gulmargheliski.com
2. Kamchatka, Eastern Russia
Situated within the far eastern peninsula of Russia, (you know, the place Sarah Palin can see from her house) the region is full of active volcanoes which, in winter, are covered in snow.
Here heli-skiers fly to the peaks of different smoking craters in pursuit of fresh white-powder descents one to two kilometres long. Nights are spent soaking tired muscles in hot springs while sipping local vodka.
Kamchatka doesn't have the best snow in the world, but in terms of an incredible travel-and-ski experience, this destination remains at the top of many a heli-skier's list.
For more: check out kamchatka.org.ru
3. Kyrgyzstan
To get an idea of how underdeveloped Kyrgyzstan's snow tourism industry is, have a quick glance at their official skiing website. Little more than a single poorly-translated page of general information, it's clear that Kyrgyzstan has a long way to go before it lives up to its self-deigned reputation as the "Switzerland of Central Asia."
Surprisingly there are a variety of heli-skiing packages on offer that cover the breadth of Kyrgyzstan's spectacular mountain terrain. And thanks to the freezing climate, you can expect powder 1.5 metres deep and runs up to a whopping seven kilometres in length.
While Kyrgyzstan is not the most stable of regions (widespread unrest and rioting occurred as recently as April 2010), we've included it on our list because, as well as good snow, a stay here also offers travellers a cultural experience unlike no other.
This is a country where the tradition of bride kidnapping, although technically illegal, still occurs, and where some of the population still lives in Yurts (traditional tents).
Enjoy heli-skiing during the day on unfrequented slopes, and immerse yourself in the rich traditions of this far-flung land by night.
For more: check out heli-ski.kg
4. Greenland
Greenland heli-skiing operates out of Kangaamiut, a remote village on a tiny island in the north west of the country. If you ever wanted to know what real life was like in remote Greenland, then this is the tour for you; during this heli-ski experience, guests sleep in houses rented from local families.
After a hard day traversing some of the longest, most isolated glacial runs in the Arctic Circle, reconvene at base camp to enjoy local home-cooked meals that include reindeer meat and musk ox.
On the downside, Greenland boasts some of the most hiked-up prices in all the Northern Hemisphere, so expect to pay through the nose for everything, not just for the heli-skiing experience.
For more: check out greenlandheliskiing.com
5. The North Pole
While it isn't strictly a heli-skiing experience per se, the Walk to the North Pole tour does involve a chopper and some skis. Plus, it's one helluva travel experience, so we think it earns a spot on the list.
Run by VICAAR out of Norway, this walk is the closest any layman will ever get to experiencing the life of an Arctic explorer. First, a plane whisks travellers to Barneo Ice Camp in the Arctic Circle. The next day an M18 helicopter takes them within a few kilometres of the North Pole, leaving the group to trek with poles and skis to the top of the world.
Upon reaching the North Pole, tents are pitched, champagne is opened, and a satellite phone is produced so that everyone can call home and brag about the amazing trip they've just had.
Skiers wanting a downhill experience can opt to stay put at the Barneo Ice Camp instead, and head out on daily ski expeditions in the region.
You'll need a strong level of fitness and advanced skiing skills to embark on this tour, and it wouldn't hurt if you were a diehard fan of cold climates either. Temps, at best, are -20 degrees.
Source: travel.ninemsn.com