Go HORSEBACK RIDING along the beach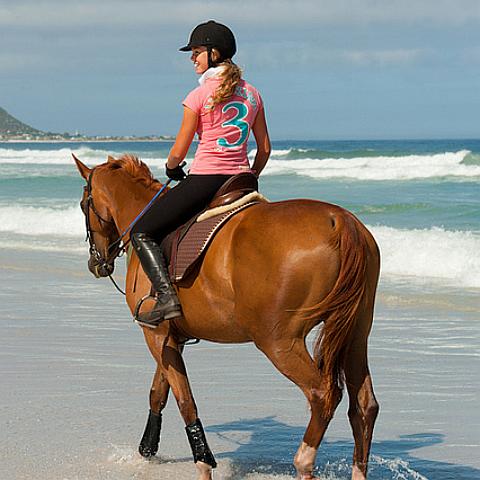 One of the life ultimate experiences you can have is to ride horseback along powder-white strands of virgin beach with only you, the jungle, and the staggering beauty of the sea or ocean as far as the eye can see.
Few great destinations for Beach Horse Riding
1. Portugal Horseback Riding Vacations
Alentejo, Portugal. Portugal Horseback Riding Vacations along the wildly beautiful Alentejo coast. Horseback ride on beaches and visit historic whitewashed villages on Lusitano horses.
2. Italy Mediterranean Coast Riding Vacation
Cilento National Park, Italy. South of Amalfi, immerse yourself in the Italian lifestyle, eating beautiful food, drinking nice wines and horseback riding through rolling hills of olive trees and Mediterranean forests, to ancient villages and on the beach.
3. Catalonia Spain Horseback Riding Vacation
Catalonia, Spain. Inn to inn and stationary horse riding holidays in Spain through stunning mountains, medieval villages and pristine beaches on Andalusian and Spanish horses in the heart of Catalonia, not far from Barcelona. Lots to do for non-riding companions. 
4. Australia Bush & Beach
Southeast Queensland, Australia. Horse riding vacations in Australia cantering along the beach, through tropical rainforest trails and into the wonderful Australian bush to muster cattle with your guide, Olympian Alex Watson. Pulitzer Prize winning author Jane Smiley called this riding vacation a "rip-snorter." You will be amazed at the scenery and wildlife. Open to beginning and experienced riders.
5. Spain Coast Equestrian Training & Trail Riding
Andalucia, Spain. Experience the ultimate Andalucian riding experience in a part of Spain untouched by much of the modern world. If you love to ride through beautiful scenery, gallop along miles of deserted, golden sandy beaches, and explore the sweet smelling natural pine forests that run along the Costa de la Luz (coast of light), then this is the holiday for you.
6. South Africa Horse Safaris
South Africa & Botswana, Africa. South Africa Horse Safaris based on a fifth generation ranch that's great for families. Varied horse riding experiences for all levels of rider, allowing for game viewing, cattle mustering, swimming with your horse, polocrosse, western games and jumping. Includes combining South Africa and Botswana horseback safaris.
7. Costa Rica Horse Riding Vacations
Costa Rica. Horseback riding in Costa Rica! Combine horse riding through misty cloud forests, rainforests teeming with wildlife, tropical mangrove swamps and beaches with ocean kayaking, snorkelling, a canopy tour, and nature hikes.
8. Uruguay Beach & Coastal Trail Riding Holiday
Montevideo, Uruguay. Beach and coastal trail riding vacations in Uruguay. Start in Montevideo and ride pristine beaches, emerald shores and a network of lagoons to coastal hills, sand dunes and pine forests.
9. Kerry Ireland Horse Vacation - Mountains & Beach
Killarney, Ireland. Explore Ireland's famous Ring of Kerry with its lakes, mountains and golden sandy beaches on a six night or two night riding vacation, staying in B&B's and small hotels to experience life in this stunning area of Ireland.
Source: equitrekkingtravel.com