Go ICE FISHING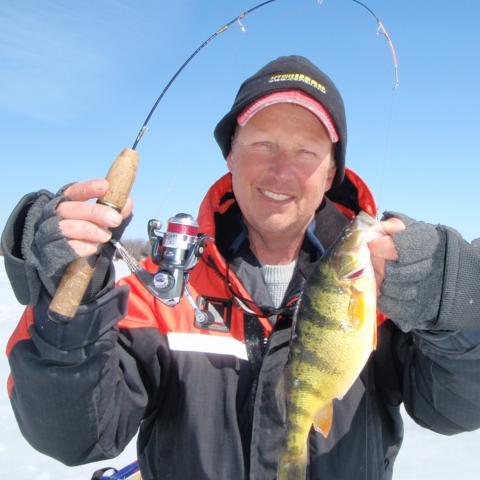 If you love fishing, if you love the great outdoors, the snow, the crisp, fresh air—ice fishing may very well surprise you with one of the best days you've had all winter.
As long as you use common sense, carry your fishing license with you at all times and follow all the rules applicable to the area you choose to fish, there's no reason not to give ice fishing a go this winter.
Here are nine reasons to get out there.
1. You Don't Need to Wait 'Til Summer To Get Your Fish On
For true fishing enthusiasts, an entire season away from the open water and the hum of an engine can sound like the worst idea ever—that's why having a winter fishing option is so priceless.
2. Your Hot Beverage
It's just one of those little things. Out on the ice on a brisk winter day, your thermos of hot cocoa, tea, coffee or soup can become one of your favorite companions and rituals.
3. Peace and Quiet
Even though ice fishing can lend itself very nicely to socializing in a group, one of the most attractive things about being out on the ice in the midst of complete winter stillness is the opportunity to enjoy nature, the quiet and space to self-reflect.
4. Satisfaction
Contrary to popular belief, fish do bite in the winter. Depending on where you are, several active types of fish school up so the opportunities are there. And once you pull that first fish through the hole you drilled, you'll be back every weekend.
5. Lunch
Most people bring small propane stoves out on the ice with them, whether they're with a group or fishing solo. Nothing beats cooking up some grub at some point during the day—especially if it involves a fresh catch.
6. Lighter Gear
Aside from an ice saw or auger to cut your hole, ice fishing involves much smaller and lighter equipment. Lighter weight lines, smaller poles and jigs make your gear easier to haul around.
7. It's Easy on Your Checking Account
Ever hear the saying: "A boat is a hole in the water into which you throw money?" Well, no boat=no fuel, no repairs and no maintenance. You can also purchase all the top-notch gear to get you started for under $100—so don't skimp. Better gear will lead to more fish.
8. You Can Bring the Family Along
Even though ice fishing does provide a good opportunity for you to be alone in a winter wonderland with your thoughts, it's a great activity for the whole family or a crew of friends. Kids will love playing in the snow and your group will surely bond over the memory of the adventure and grilling up fresh fillets to warm yourselves up.
Source: recreation.gov