Go SKINNY-DIPPING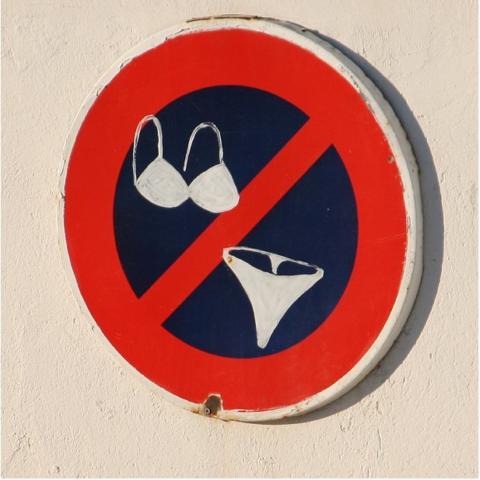 Top 10 places to go skinny-dipping:
1. Formentera, Spain. As the smallest and most southerly of Spain's Balearic Islands, Formentera boasts some of the Mediterranean's finest beaches. There's no need to pussyfoot around on these unspoilt sands – nudity is the norm and you'll likely draw more looks if you cover up than if you let it all hang out.
2. Viti Lake, Askja Caldera, Iceland. In a land littered with volcanic wonders, Askja is a gem. Isolated in Iceland's remote Central Highlands, in the shadow of the immense Vatnaj?kull ice cap, it's a hard place to reach. You'll need off -road driving skills and nerves of steel to ford the daunting glacial rivers, but it's worth the effort. Following a huge eruption in 1875 the volcano's caldera collapsed and filled with water. The resulting lake, ?skjuvatn, is Iceland's deepest at 220m. But nearby Viti is the main attraction. Intrepid visitors scramble into the steep crater to soak in soothing geothermal waters – bathing suits are strictly optional.
3. Traditional onsen, Japan. Japan's tradition of hot-spring bathing – onsen – is enshrined in the nation's culture. Located on the Pacific Ring of Fire, Japan bubbles with volcanic activity and there are thousands of bathing houses serving locals and tourists alike. Japan's army of salarypeople view onsen as the perfect stress buster, a place to unwind and shake off the city's shackles. Naturally, you can only do that if you're butt naked. It's a philosophy some Westerners find hard to grasp, but if you're prudish most onsen offer single-sex bathing. If you get the chance, it's an experience not to be missed.
4. Ice swimming, Finland. In summer Finns love nothing more than hanging out at their summer houses, firing up the barbie and frolicking in one of their country's 187,888 crystal-clear lakes. But summer's for softies! Hard-core skinny-dipping combines the ubiquitous Finnish sauna with a teeth-chattering spot of ice swimming. Public swimming holes will usually call for bathing suits, but if you know what you're doing no one's going to stop you hacking your own hole and taking the plunge. On a still wilderness evening, under a crisp star-studded sky, scampering from the steamy sauna to the inky water is a withering experience.
5. Porcupine Mountains Wilderness State Park, Michigan, USA. Michigan's Porcupine Mountains, known as the 'Porkies', are a series of ridges rising steeply from the shores of Lake Superior. This is nature on a grand scale: panoramic views, vast isolation and the world's largest freshwater lake. A great weekend hike follows a loop linking three trails – Escarpment, Big Carp River and Lake Superior – to take in the finest scenery. Fancy a dip? Seven miles west of the trailhead lies a sheltered back-country camp site, voted as the definitive skinny-dipping location in the States. Tiptoe over the carpet of pine needles and rejoice in the perfect naked swim.
6. Paradise Beach, Mykonos, Greece. Travellers on the 1960s hippy trail made Paradise Beach famous as a hedonistic hideaway of free love and unbridled carousing. Today it remains a party hotspot where backpackers crowd the beach bars and rock through the night. Make no mistake, this place is popular, so forget having the beach to yourself. Paradise is all about hanging out and mixing with an energetic crowd of revellers. And at the end of the night there's no better way to get to know your new friends than with a dawn swim – au naturel of course.
7. Radha Nagar, Andaman & Nicobar Islands. Scattered in the Bay of Bengal near Burma and Indonesia, the 582 islands of Andaman and Nicobar shot to global prominence after being hit by the 2004 Indian Ocean tsunami. Tourism is recovering, and Radha Nagar on Havelock Island has been receiving serious praise – could this really be the 'best beach in Asia'? It's a bold claim, but one that stands up to scrutiny. Pristine white sand, turquoise water and coral reefs with great snorkelling give it major plus points, as do the cinematic sunsets. It's a wondrous place to take a cheeky dip, but watch out for strong currents.
8. Blackmoss Pot, Lake District, England. Skinny-dipping in England? Yep, some people are that bonkers. Wild camping in England is officially off limits and parading in the buff isn't really the done thing – it's just not cricket, you know? But that shouldn't stop you; you can pitch a tent discreetly in the Lake District and nobody will mind. In the cool of the early morning, drag yourself from the tent and take a dip in Blackmoss Pot, a sheltered pool with great rocks for star jumping to the clear water below. No amount of steaming tea and bacon butties can wake you quite this effectively.
9. Englischer Garten, Munich, Germany. Even by the liberal standards of continental Europeans, Germans are rampant nudists. It's a mentality rooted in the 19th-century Freik?rperkultur (free-body culture) movement, one that lives on in today's urban dwellers. In summer thousands of everyday M?nchners head to the city's largest park, the Englischer Garten, to get their nude on over lunch, sprawling on the grass or cooling off in the river. The countless piles of neatly folded business suits is an unusual scene, and a constant source of amusement for tourists.
10. Turtle Island, Fiji. This one's for the romantics. A luxury island resort accommodating just 14 couples featuring sumptuous villas, oceanfront alfresco dining and a spa menu as idyllic as the location. Better still, there are 14 private beaches. Who's to stop you taking a nude stroll along the white sands, soaking up a little sun or enjoying a moonlight splash? The island was a locale for The Blue Lagoon (1980), and it's hard to imagine stripping off in a more sublime location.
Source: lonelyplanet.com