Go for Sydney Harbour BRIDGE CLIMB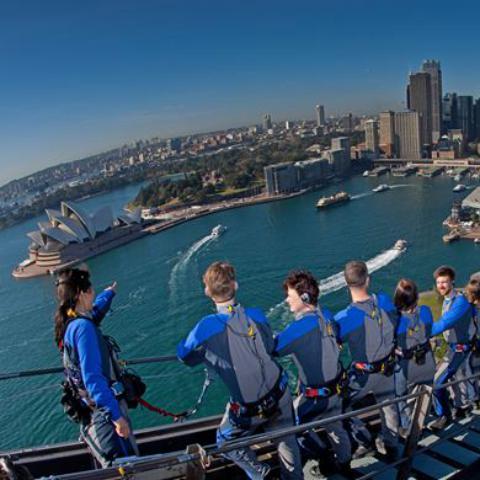 Ascend to the top of one of Sydney's most iconic landmarks with the Sydney Harbour Bridge climb for stunning views of famous Sydney Harbour and the city skyline. With a choice of three climb options - each of which are available at four different time periods throughout the day - you'll be able to join with the exact conditions you're looking for; see Sydney shining while blanketed in the light of day with the day climb, the lights of its skyline glittering under the stars with the night climb, or as the sun sets adding its fading golden glow to the atmosphere at twilight - the choice is yours!
1. The Express Climb
Those who are short of time in Sydney, now don't have to miss out on a climb to the top of Sydney's iconic Bridge, with this new 2 hour and 15 minute experience. The Express Climb has more of BridgeClimb's team on hand to assist you with a quicker Climb preparation, making the most of your time while giving you a maximum Climb experience. You'll discover the wonders of the Bridge up close, in a smaller group, before reaching the summit and experiencing the thrilling views of Sydney.
2. The Discovery Climb
A 31/2 hour guided Climb that takes you through the heart of the Bridge, providing a unique opportunity to explore the inner workings of this amazing structure. You'll see the Bridge up close and hear the stories behind this triumph of engineering. As you reach the summit, fascinating facts and statistics give way to amazing panoramic views of the Harbour.
3. The Bridge Climb
This is a 31/2 hour guided journey overlooking the magnificent harbour city of Sydney. You'll enjoy uninterrupted views as you climb the outer arch of the Bridge all the way to the summit. With your arrival at the summit, the 360-degree views of the city, the Opera House and beyond are unforgettable.
Source: bridgeclimb.com, experienceoz.com.au