Go on a helicopter sightseeing tour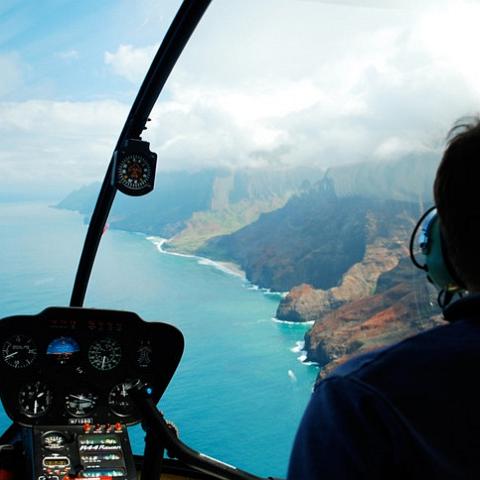 World's Coolest Helicopter Rides
1. Great Barrier Reef, Australia
The world's largest barrier reef extends 1,600 miles along the Coral Sea off Australia's northeast coast. It nurtures diverse marine life—and even the occasional romance.
2. Grand Canyon, AZ
You've peered into the Grand Canyon from the South Rim, you've traipsed down its vertiginous sides on a mule, you've even gingerly ventured out onto the cantilevered glass Grand Canyon Skywalk. But you haven't truly appreciated "one of the great sights which every American should see" (as Theodore Roosevelt put it) until you've buzzed over in a helicopter.
3. Hong Kong
The east-meets-west allure of cosmopolitan Hong Kong doesn't wane, no matter who's in power. In a city full of skyscrapers and jet-setters, it's only natural to want to rise above it all. Helicopter rides take in sights like Kowloon Bay, Victoria Peak, and the glittering skyline.
4. Amalfi Coast, Italy
Ischia—a volcanic island in the Bay of Naples inhabited since the time of the Phoenicians—is the launching point for flights over some of Italy's most famous attractions. You'll soar above the craggy island of Capri, the Amalfi Coast, Naples, and the remains of Pompeii and Herculaneum, the two towns buried under ash when Vesuvius erupted in 9 B.C. Then get up close to the vengeful mountain itself, which is still active, although it hasn't erupted since 1944.
5. Juneau, Alaska
Alaska's sheer numbers are telling: more than three million lakes, 16,000 square miles of glacier ice, and 34,000 miles of shoreline. But they don't mean much until you've witnessed it all from a great height. Juneau, in the state's southeast, is an ideal launching pad for flights over the magnificent Mendenhall Glacier, one of Alaska's premier attractions.
6. Victoria Falls, Zimbabwe/Zambia
Locals call it Mosi-oa-Tunya, or "the smoke that thunders." These falls straddle the border between Zimbabwe and Zambia, reaching 5,600 feet across and plummeting from a height of 360 feet. Scottish explorer David Livingstone made this natural wonder famous around the globe after spotting it in the mid-1800s—and would likely envy today's explorers, who can swoop over the monumental gorges by helicopter.
7. Big Island, HI
The 50th state lays claim to some of America's most dramatic scenery, from rainforests to black-sand beaches. "The Big Island is more than twice the size of the other Hawaiian Islands combined, so the helicopter tours are a perfect opportunity to see the island in its entirety," says Jaisy Jardine, director of public relations at the Fairmont Orchid, whose guests often request the tours.
8. Rio de Janeiro
Escape the tourists thronging the most visited city in South America by taking off (literally) on a whirlwind tour of Rio's landmarks, including Ipanema Beach and the statue of Christ the Redeemer, one of the world's most photographed man-made sights—which you can capture from an unusual vantage point.
9. Royal Davui Resort, Fiji
Guests of the exclusive Fijian resort Royal Davui—16 villas take up an entire 10-acre island—arrive in style via a helicopter flight from the capital, Nadi, a service booked through the resort. It's the first in a series of indulgences: private cliff-top plunge pools, in-room spa treatments, and fresh seafood beneath the restaurant's banyan tree.
10. Tokyo
With its futuristic buildings and fashion-forward locals, Japan's capital is plenty to take in just from street level. So what about from the air? Find out on a quick trip over iconic city sights like Tokyo Tower, the Imperial Palace, and trendy neighborhoods Ginza and Shinjuku.
11. Turks and Caicos
This British Overseas Territory ticks all the tropical idyll boxes: palm trees, white sand, and clear cerulean seas. The 40 islands are 550 miles southeast of Miami and have an annual tourist population that far outnumbers full-time residents. Treat yourself to a flightseeing tour that perfectly showcases the islands' beauty.
12. Columbia Mountains, Canada
This mountain range in southeastern British Columbia is popular for summer walks, when the landscape explodes with wildflowers. If you want to get your adrenaline pumping, turn to Canadian Mountain Holidays. Founded by Austrian mountaineer Hans Gmoser in 1959, this tour company was the first to offer both heli-skiing and heli-hiking. Guests board a helicopter daily to travel between their lodge and scenic points on remote mountain ridges.
13. Laikipia Plateau, Kenya
Teeming with wildlife, Laikipia is a jumping-off point for airborne excursions to explore the lake-covered eroded volcano Mount Kenya and Ol Lolokwe, a sheer mountain sacred to Northern Kenya's Samburu people. Along the way, passengers get a bird's-eye view of animal patterns below along the vast savannas of the Northern Frontier District.
Source: travelandleisure.com