Hang from TORONTO's CN TOWER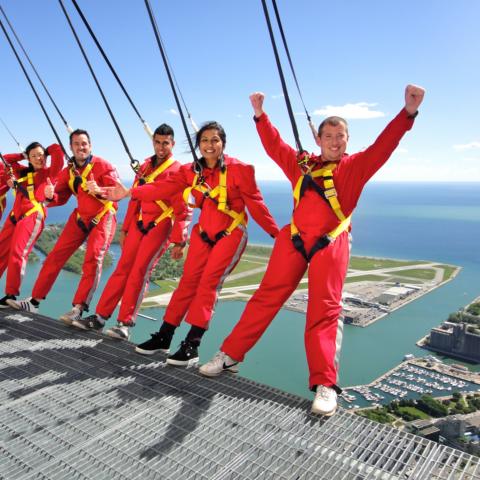 The CN Tower can be thrilling enough with its glass floor and amazing views, but can you imagine yourself walking around the outside of it on a 5 foot wide ledge ringing the exterior of the observation level. Better yet, how about hanging over the edge with nothing but air and the breeze between you and the ground a distant 1168 feet below! The EdgeWalk holds the Guinness World Record for the highest walk on the exterior of any building.
By its very nature , the EdgeWalk experience is thrilling and participants must be at least 13 years of age and in good physical condition. To participate in this exhilerating adventure you will put on a special jumpsuit and wear a harness attached to a track that allows you to not only walk around the ledge on the exterior of the tower, but to also lean out over the edge.
The complete experience lasts for 1.5 hours which includes between 20 and 30 minutes walking and hanging out on the outside ledge. Visitors are accompanied by expert guides and each receives a video, a printed photo of themself on the walk and a commemorative certificate. While not inexpensive, the EdgeWalk at the CN Tower will give you the memory of a lifetime and also includes a Tower Experience Ticket which gives you admission to the Himalamazon Motion Theatre Ride, the Legends of Flight 3D movie, the SkyPod, the Glass Floor and the Lookout. When you put it all together it's an amazing package.
The EdgeWalk is a seasonal attraction and is only available by advance booking. It is very popular so you should book well ahead of your vacation.
Source: tourbytransit.com