Learn to PLAY PING PONG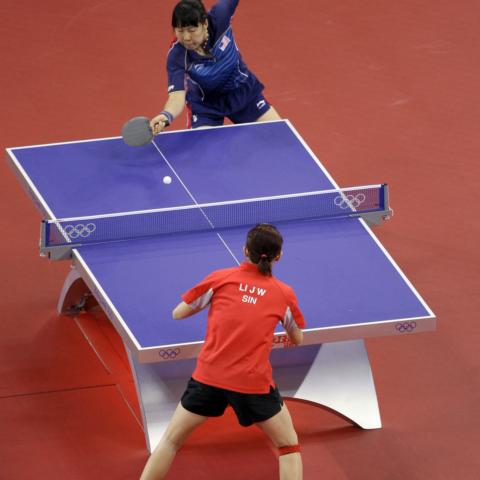 George Clooney, Wayne Rooney and Bill Gates are all devotees of table tennis, a sport enjoying such a boom that Oscar award-winning actress Susan Sarandon has even opened a ping-pong nightclub in New York.
The sport's appeal is obvious: it's fast, fun and cheap.
At elite level, it's really fast. The ball travels at speeds of 100mph and is struck more than 180 times in a minute - about three shots a second.
The Chinese dominate the global game (they have won all five titles at each of the last four World Championships), and the proliferation of China-born players representing other countries has raised the standard.
There are four table tennis events held at the Olympics: the men's and women's singles, and men's and women's team events, which replaced the doubles at the last Olympics.
Why is it good for you?
1. As table tennis is an incredibly fast sport, an hour's play can burn approximately 272 calories. Due to its intensity, table tennis improves cardiovascular fitness, endurance levels and the health of an athlete's heart.
2. One of the main benefits of playing table tennis is that it is non-contact. This means you can get all the positives of a high-energy sport such as football without the risk of collision injuries to the arms, shoulders and legs.
3. It is also one of the few competitive sports that requires players to move at speed without straining the muscles or joints through stretching or using heavy equipment.
For people returning from injury or the elderly, table tennis tennis can be the perfect sport to sustain fitness levels.
The action of having to hit a fast-moving ball with a bat several times a second means table tennis also improves reflexes, eye-to-hand co-ordination, mental alertness and speed of movement.
Source: bbc.co.uk