Learn to SKI JUMP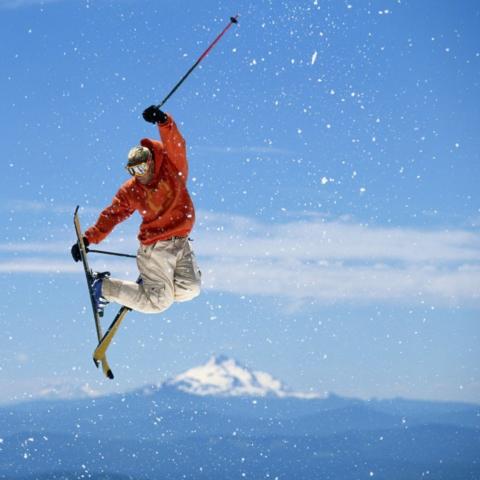 Ski Jumping is an Extreme Sport ANY Downhill Skier Can Try!
We've all seen the Olympic ski jumpers flying off towering ramps and soaring through the air. You probably thought, "Those people are crazy! How do they have the guts to do something like that?" But did you know that ski jumping isn't just for thrill seekers on a death sentence? In fact, anyone can learn to ski jump, as long as you've mastered basic downhill skiing skills. If you've ever thought about learning to ski jump, here's what you need to know as a beginning ski jumper.
1. You don't need any special equipment.
Your downhill skis, boots, and poles will work just fine on the ski jump. You will be required to wear a helmet, so if you don't own head protection, you'll need to purchase a helmet. It's vital that you protect your head when attempting ski jumping techniques, even in the presence of a certified instructor.
Special ski jumping equipment is available, such as longer, wider skis made solely for the sport, and ski jump body suits to reduce drag. Hold off on purchasing special ski jump equipment until you are comfortable jumping at the 40-meter ski ramp level. By the time you reach a level where you're getting some serious hang time, you'll know if ski jumping is a hobby you want to pursue. Your regular downhill ski gear will work fine until then.
2. You must be comfortable skiing fast and in-control.
Some downhill skiers enjoy going down the hill at a leisurely pace and balk at the thought of going fast. If you're not comfortable speeding down a hill while maintaining your control, ski jumping might not be for you. Speed isn't much of an issue when you're first starting out, but when you progress to the higher ramps (40-meter and up), you will need to feel comfortable skiing at a fast pace-sometimes up to 30 miles per hour-to work up enough momentum.
3. Ski jump lessons are for all ages.
Most ski jump areas give lessons for ages 5 and up. In my adult-only class, there were about six other beginning ski jumpers, including a 62 year old lady who was taking ski jump classes with her 19 year old grandson!
4. You will start out on a tiny ramp.
Beginning ski jumpers don't climb to the top of that big, scary ramp and hurl themselves down, catapulting themselves into midair-they work their way up to it. I started out on a 10-meter jump, which is very common ramp height for first-time ski jumpers. Don't let the height scare you away! The 10-meter measurement refers to the distance a skier can get from the jump, not its height. The 10-meter jump is only a few inches high-you're barely off the ground. As your skill level improves, the instructor will move you to steeper and higher ramps. The instructor will never move you to a hill that's too dangerous for your ability.
5. What to expect on your first jump:
The first ski jump is the hardest. Before I took my first jump off the 10-meter ramp, I had to psych myself up. I waited until a few others in my class took their first plunge down the hill. None of them wiped out and there were no broken bones! So, I took a deep breath and skied down the tiny ramp. The feeling was amazing! It's a surreal sensation to be airborne, even if only for a few seconds. It feels like you're in the air forever, but in reality, your jump is only a few seconds. Once I got past that "first jump hurdle", I was hooked!
6. You won't fly hundreds of feet above the ground.
Ski jumping on TV can be deceiving. While it might look as though the ski jumpers are several hundred feet off the ground after launching off the ramp, they're actually only about 10 to 20 feet off the ground. In a ski jump contest, officials do not measure how high someone jumps; it's the distance you jump.
Ski jumping is fun and thrilling. If you already downhill ski, why not do something different this winter and sign up for a ski jumping class? In my experience, ski jumping is a newbie-friendly sport and a great opportunity to make lifelong friendships - and gives you an unsurpassed adrenaline rush!
Source: voices.yahoo.com