Participate in a REGATTA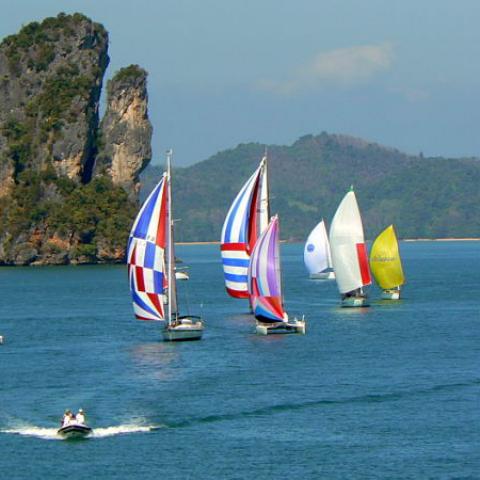 A sailing regatta is a unique spectacle offering a high energy and fun experience. A highly visible and exciting sport, sailing has a huge corporate following and has been successfully used for brand launches, networking and visibility by some of the largest event sponsors in the world. Famous regattas around the world:
1.Cowes Week was established in 1826 and is the longest running annual sailing regatta in the world. It now attracts over 1000 boat entries and 8500 competitors. It is held on the Solent between the south coast of England and the Isle of Wight. Culminating with it's world famous Friday night fireworks display, this weeklong festival regularly attracts over 100,000 spectators every year. With such a large following Cowes week always hosts high profile event sponsors and huge media attention.
2.International Rolex regatta. Every year St. Thomas Yacht Club in the US Virgin Islands hosts the world renowned International Rolex regatta. Known as the 'Crown Jewel of the Caribbean' this 3 day weekend event has established itself on the sailing calendar. Entering it's 37th year the desirable location and superb weather conditions constantly draw some of the top racers year in year out. Other's come simply to mix their passion for sailing with a family holiday to this beautiful location.
3.Antigua Sailing week one of the most prestigious regatta's in the world Antigua Sailing week attracts the biggest names in yacht racing from across the globe. Entering it's 43rd annual event several thousand yacht crew' will flock to the small Caribbean island for the reliable trade winds, world class racing and superb social events. The numerous maxi yacht entries ake this race a truly awe inspiring experience.
4.America's Cup. The America's cup regatta is a challenge driven regatta of match races (1 on 1 racing) and is one of the most technical sporting events in the world. The cup is the oldest trophy in international sport and has been awarded to the overall winner since 1851. The event has become a media spectacle and attracts some of the world's biggest sports event sponsors.
5.Sydney Hobart. Since 1945 the Sydney Hobart or "Bluewater classic" has been an annual yacht race from Sydney, Australia to Hobart, Tasmania and is widely regarded as one of the most technically difficult yacht races in the world. A distance of 630 nautical miles across the Bass Straits participants experience extremely high winds and heavy seas. The challenging nature of the race has made it a well known benchmark for the world's best yachtsmen.
Source: aquasailregattas.com