Play at BURJALARAB TENNIS court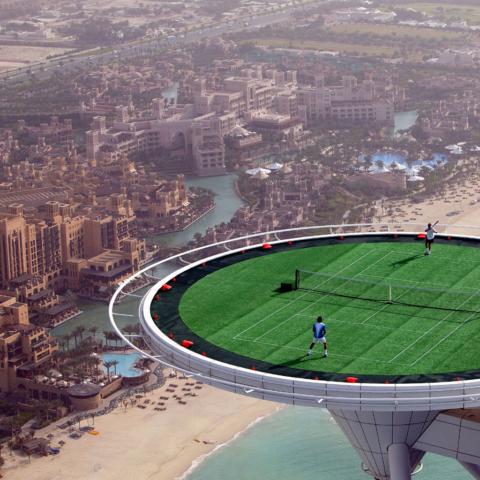 The world's highest Tennis court stands atop the fourth highest and the only 7 stars hotel in the world, Burj Al Arab in Dubai. The tennis court is circular in shape ,and also doubles as a helipad, hovering 1000 feet above the Arabian gulf.
In preparation for the Dubai Duty Free Men's Open, On February 22, 2005, the Burj al Arab hosted Andre Agassi and Roger Federer to play a match on their helipad tennis court before heading to the $1 million championship. The tennis legends couldn't resist the temptation to have a friendly 'hit' on the world's most unique tennis court.
Burj Al Arab is the world's most luxurious hotel, standing 321 meters high on a man made island, it was Designed by Tom Wright and completed in 1999. The hotel's helipad, which is situated 211 meters high covers a surface area of 415 square metres.
Source: elitedaily.com