RAFT through the GRAND CANYON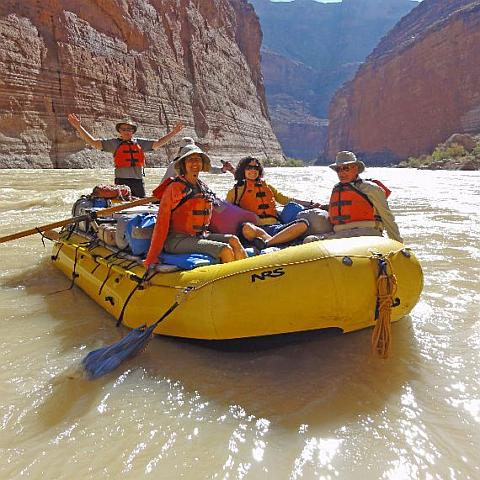 Trip of a Lifetime: Rafting the Grand Canyon
Most visitors to the Grand Canyon are lucky if they even get to glimpse a sliver of the Colorado River during their whirlwind three-hour tour of the South Rim. However, putting yourself at the mercy of the river and exploring the canyon's depths from aboard a raft is an entirely different, and otherworldly, experience. So even if you've already checked the Grand Canyon off your must-see list, consider taking a plunge a mile beneath the rim. No other rafting trip combines so many days of staggering scenery, whitewater thrills, and magical hikes.
Planning for this trip takes several steps. Just remember that the canyon took a while to form too, as you'll see among the geological layers from the folds of sandstone to the 1.7 billion year old Vishnu Schist rocks. Rafting the canyon is so popular it's no wonder the National Park Service only allows one trip per person per year, one young rafter recently described the adventure as a "six-day waterpark."
1. Choose Your Boat Type.
Most boats on the river are of the inflatable rubber raft variety, but these are much sturdier than just your average pool float. Where they differ depends on their average speed, the number of passengers they carry, and how much they allow you to you feel the rapids.
Motor boats are the largest and fastest boats; these can hold up to 20 people and run smoother through the rapids, but can be noisy. On oar boats the guides do the rowing, while 4-5 passengers can relax through the long peaceful stretches, and hold on through the rough stuff, as these smaller boats offer a wilder ride. The least common boats are paddle boats, where passengers pitch in with the paddling, which can be a tiring endeavor, but it's oh-so-exciting on the rapids.Hybrid trips commonly have oar boats or one motor boat, along with one paddle boat: you can choose which one you'd like to ride in for different stretches and this can be a nice way to experience two different trips in one.
Total group size may be up to mid-30s so several boats usually travel together, sometimes with a support boat carrying extra gear. On most trips, no previous rafting experience is required but it is recommended that you be in reasonably good physical condition. The minimum age is typically 12 years old, though some operators allow children as young as 8 on motorized rafts.
2. Choose Your River Section
The best canyon trips are from 3 to 18 days. While you can do 1 to 3 day trips in the lower canyon with transfers from Las Vegas, you'll miss out on the most beautiful and wildest parts of the river. Consider how much time you have and if you like hiking. Upper and Lower trips typically involve a 10-mi hike down (or up!) the switchbacks of Bright Angel Trail, through the canyon's different eco-systems. While some travelers dream about conquering the canyon?s inner gorge and challenging their legs and lungs with the one mile of elevation change, this may not be everyone's idea of vacation.
Between Lake Powell and Lake Mead, the Colorado River carves through the Grand Canyon for 277 miles and serves as the dividing line between the North and South Rims. Mile 0 is at Lee's Ferry, Arizona, where the waters of Lake Powell regain their natural flow. From here the river heads west through a series of twists and turns. The Upper Canyon (motorized: 3.5 days, oar: 5.5 days) is narrower and some say more visually interesting with dramatic sheer rock faces. Phantom Ranch, the hike-in lodging on the floor of the canyon and destination for many mule trips from the South and North Rims, is at mile 88—approximately the division between the two half-river sections. In theLower Canyon (motorized: 4.5 days, oar: 6.5 days), the splash factor is undeniably bigger. You'll experience impressive Class V rapids such as Hermit, Granite, Crystal, and the grand finale—the longest stretch of navigable whitewater in the country—Lava Falls. For the Full Canyon(motorized: 6–8 days, oar: 12–16 days), you'll finish at either Mile 225: Diamond Creek or from a helicopter landing site upstream for slightly shorter "Best of" versions.
3. Book Your Trip and Prepare
In general, remember that travel arrangements need to be booked in advance for canyon trips; Northern Arizona is remote and services are limited. The National Park Service gives permits to only 16 outfitters to run 318 day commercial river trips within the canyon. Top outfitters include Arizona Raft Adventures, Canyoneers, Grand Canyon Expeditions, and Wilderness River Adventures. The season typically runs from May to September and Northern Arizona is warm and dry. July and August are the busiest months for trips and rain storms are more frequent, though they usually pass quickly. May, June, and September can be a little less hot, with temperatures between 60 and 90°F.
Once you book your trip, your outfitter can advise you on what other arrangements you need to make at the South Rim or Page. You'll often be required to arrive the day before the trip starts. There are small airports in both areas, but most visitors will have to connect through Las Vegas or Phoenix, so plan ahead for your transportation. Book lodging in advance too, especially if you want to be close to where you are meeting your group (sometimes as early as 4:30 in the morning).
You'll also be advised about any other services to arrange ahead of time, including beverage purchases and duffel services. If you are doing the Upper or Lower half and hiking your way in or out, you'll have to carry all your stuff on your back unless you arrange for duffle service in advance through the mule-ride outfitters. For packing, follow your outfitters list—they'll provide gear like lifejackets, sleeping bags and tents, not to mention the all-important dry bags. The extreme wet, sandy, and sunny conditions mean you'll need to bring essentials like a rain suit, sun block and hat, bathing suit, bandana, sundries, and layers of fast-drying clothes that you don't mind getting dirty. A waterproof camera is a plus, even if it's a disposable one. Remember that you can't restock along the way but because of the dry environment, you're more likely to wish for comforts like extra contact solution and lotion than for an additional change of clothes.
TIP: To amp up your excitement, consider seeing the canyon's rim or maybe taking a helicopter flight before you begin your rafting. It's hard to imagine that the small stretches of churning river you can glimpse are navigable, such as the distant rapids you spy through binoculars at Yavapai Observation Station on the South Rim.
4. What to Expect on the River
Ok, so you've planned and packed and are finally ready! Remember that this is a group experience, so you'll be sharing your boat with others. Don't worry, they will feel like family and friends in no time. The river guides really help bring everyone together as they juggle the roles of educators, cooks, and entertainers. These experienced boatmen and women have a deep understanding of the river and easily and happily translate the canyon's many stories.
Made up mostly of snowmelt from the Rockies, the water of the Colorado River rarely reaches temperatures above 50°F. But on hot days you will welcome the splashes of cool water and many rafters are tempted to take a dip. The river can be everything from wild waves to mild sections perfect for floating, and the setting is surprisingly varied. In Granite Narrows, the canyon walls are just 76 feet apart; at other points, peaceful side canyons stretch off from the canyon's Inner Gorge and lead up and away for miles.
Side hikes, always optional, are a chance to get an up-close perspective on areas accessible only by river. They showcase numerous thundering cascades such as Deer Creek Falls and Shinamu Creek Falls, twisting slot canyons, enchanted hanging gardens at places like Elves Chasm, and the unbelievably blue waters of oases like Havasu Creek. In addition to the canyon's amazing geology, there's also archeological evidence of the ancient people who lived here—you can sometimes glimpse in granaries tucked into the canyon walls. Along the banks, you'll see cottonwood trees and animals such as big-horn sheep that have adapted to the harsh environment. Canyon wrens and lizards are also common; look for trout in the river too.
While there is a strong sense of camaraderie, there are opportunities for solitude and privacy, mainly when you arrive at your nightly camp. At camp, you'll quickly fall into a routine along the river's sandy banks. Communal meals of hearty food and a varied menu, such as steak or green chile stew, are often capped by stories in the evening. While tents are available, rain is infrequent, and mosquitoes are nonexistent, so you'll probably end up sleeping under the oh-so many stars. After sunset the camp quiets and the river will lull you to sleep—it's hard to imagine it but rapids can sound peaceful too. The sun rises early, but there's coffee and full breakfast to start your day.
Once you make it to the river, decisions are few and far between, as your guides take care of the details. Your job is to enjoy the canyon—from the tops of the cathedrals, spires, and temples all the way down to the Colorado. It takes a few days to get into a river routine, but before you know it, the nagging feeling to check your e-mail disappears. When it's all over, you may wish that there were more miles of the Colorado to tackle; it truly takes a river adventure to start to understand the Grand Canyon's magic.
Source: fodors.com