RUN WITH BULLS in Pamplona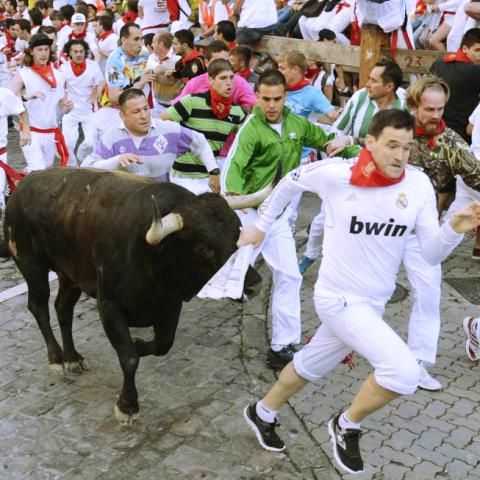 Running of the Bulls in Pamplona, known by the locals as San Fermin, is one of the wildest and craziest festivals in Europe.
The running of the bulls began as a way to move bulls from Pamplona's corral to its bullfighting ring. The animals would run the roughly half-mile stretch as children and adults herded them with shouts and sticks. The practice may date back as far as the 13th century, but it is known to have continued virtually uninterrupted since 1592, when the festival was moved from September to July. People are thought to have joined the herd sometime in the 1800s.
Nowadays, thousands of participants from around the world dash through Pamplona's streets trailed by charging bulls. Thousands more watch from safe nooks and balconies along the route, and spectators can also follow the events on national TV. Every morning from July 7 to 14, hordes of daredevils gather in a historic section of the city, many dressed in traditional garb and carrying rolled-up newspapers to swat the bulls if necessary. They sing a traditional homage to St. Fermin, asking him to guide them through the run. After two small rockets are fired, six bulls are released (along with a herd of steers), and the chase is on. The event generally takes just a few minutes.
Some tips:
Tip #1: Wear yellow
There are hundreds and often thousands of people running with the bulls any given day. These people will all be wearing the traditional festival colours of red and white. You shouldn't. If you want your friends and family to see you and perhaps take a picture, wear yellow. It seems to be the colour that best contrasts with your fellow bull runners. If you're running with Spyns, we can provide a flurorescent vest so you really get noticed.
Tip #2: GoPro = No Go
Running with a camera is illegal. This includes any form of photographic or recording equipment. The idea is simple: if you're focusing on taking pictures, you're not focusing on the bull run. If you're planning to use a GoPro camera during your bull run, you'll likely get kicked off Pamplona's bull run. Pamplona's police are on the closed bull run course right up until just before the daily 8 a.m. runs. If they see you with a camera, you'll be quickly and often roughly escorted off of the running course. The only way former Spyns clients have succeeded in wearing GoPro cameras is to wear the harness and camera under a loose-fitting shirt. Just minutes before the run, the bull runner then tears a hole in the shirt so the camera can film. If you're planning to film the run backwards with the camera on your back, you'll have to have a fellow bull runner tear open the back of your shirt.
Tip #3: Friends and Family Should Wait in the Arena
An average bull run lasts for just two minutes. So you can expect to run near the bulls for 5-10 seconds. Given this timeframe, it's highly unlikely friends and family will be able to take a picture of you running. Few know that the bull run ends in Pamplona's bullring. Once the running bulls have been corralled, they release the cows (called 'vacas') into the crowd of runners. It's fun to watch and lasts for about 30-45 minutes. Your friends and family will have a better chance seeing you run in the arena than on the bull run so they should probably wait for you there. But don't forget to wear your yellow shirt (see Tip #1 above).
Tip #4: Go to Auma Photoshop in Pamplona's Main Square
The above camera/photo shop works with local photographers. They take high-speed pictures of the bull run which are then posted each afternoon on boards in front of the shop. Spyns clients get a complimentary photo so we've got you covered. Most people can find themselves among the hundreds of shots. It's the most reliable way to immortalize your bull run.
Source: running-of-the-bulls-pamplona-tours.blogspot.com, time.com