SCUBA DIVE in the top destinations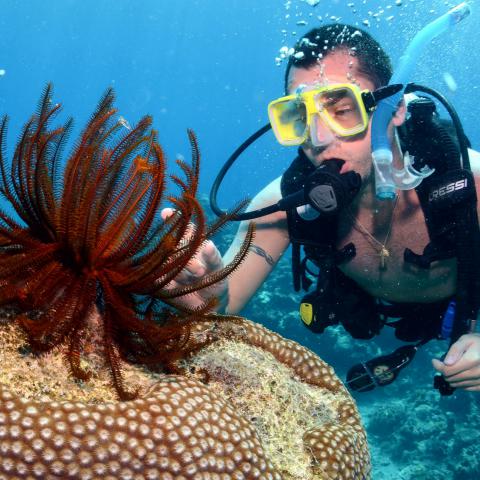 Top 10 Destinations To Scuba Dive
Whether you're a scuba pro or looking for the perfect spot to take your first dive, check out this PADI vetted travel guide for where to go.
1. Bora Bora, French Polynesia
The ultimate destination for honeymooners, Bora Bora offers more than romance when it comes to its underwater menu. Often referred to as the "Shark Capital of the Pacific," Bora Bora ups the ante on diving with these creatures that "Jaws" made synonymous with danger. Controversial-yet-exhilarating chum excursions bring divers face to face with a variety of sharks (think: black-tip and grey reef sharks and lemon sharks). Joined by armies of giant wrasses, swarming manta rays, rainbow jack fish, and oversized moray eels, Bora Bora is definitely a dive on the wild side.
2. Namena Reef, Fiji
Thanks to local Fijian village chiefs protecting and managing this reef, it's home to thousands of species of coral and marine life. Operators visiting sites within Namena Marine Reserve require an admission fee (to be paid in advance) that's used to maintain the mooring buoys and other preservation costs associated to keep the reef exceptionally healthy. Descending into the immaculate waters, swimming with schools of barracuda, gliding past 1000-foot vertical drop-offs, and riding the currents up chimneys while coral snakes quietly follow you gives you serious bragging rights. There's a reason Jean-Michel Cousteau set up a resort on nearby Vanua Levu island: The diving rocks!
3. La Paz, Mexico
In western Mexico's La Paz, you'll find clear water the temperature of a bath, tropical neon plants, and guppy-sized aquarium fish. But that's not what lures most divers to this underwater version of "Animal Planet." "You splash here to see the stuff reserved for National Geographic—whales, orcas, sea lions, huge mantas, schools of spotted eagle rays each the size of a Volkswagen, turtles as old as the hills, 15-foot long Humbolt squid, and very, very big sharks," says Drew Deckman, a divemaster, fisherman, and chef of the popular San Jose del Cabo restaurant, Deckman's. "When the hammerheads are schooling on the Gordo Banks, there's nothing like it in the world."
4. Red Sea, Egypt
"The diving in the Red Sea, especially around the Dahab and Blue Hole area, stands out for its amazing visibility and ease of access," says travel blogger Michael Hodson, an avid diver who pens the blog (Go, See, Write). "Almost all dives in that area are walk-ins, visibility is regularly 20 to 30 meters, and the color and variety of the underwater life is spectacular because the coral is still in excellent condition." This is explained by the Red Sea's geographic location: Nearly surrounded by desert, the waters retain fairly consistent temperatures and salinity levels, and the lack of run-off from rain, rivers, or any other sources of fresh water provide crystal clear waters for exploring its reefs, wrecks, and depths.
5. The Islands of Micronesia
Like Indonesia, Micronesia has been a hot dive destination for decades. Scattered over a large area of the Pacific, the islands of Micronesia satisfy a variety of dive personalities by offering different kinds of dive experiences. Wildlife junkies can dive with mantas in Yap and with sharks in Palau. If exploring underwater wrecks is what grabs you, this is your slice of underwater heaven; Micronesia is most famous for the historic World War II wrecks that can be found near many of its islands, such as Chuuk (Truk Lagoon), and the Marianas and Marshall Islands.
6. Indonesia
Indonesia is known for its pristine diving and incredible underwater experiences. Places like Wakatobi are favorites of long-time dive fans, but newer spots like Raja Ampat are growing in popularity. Boasting unspoiled reefs and prolific marine life, both Wakatobi and Raja Ampat offer an array of marine diversity. If you're visiting, be prepared for large animal encounters with mantas and whale sharks, as well as awesome macro critters. Spanning scenic uninhabited islands, jungle coastlines, and offshore reefs, it doesn't get much better than this!
7. Playa del Carmen, Mexico
The limestone bedrock that underlies Mexico's Yucat?n Peninsula is pocked with freshwater-filled sinkholes called cenotes, marking the region with fantastic dives that hearken back to legends passed down from the Mayan era. One of the best-known cenotes is the 48-foot-deep Cenote Taj Maja, just south of the Caribbean coastal town of Playa del Carmen. The guys at PADI Five Star IDC Resort Dive Aventuras in nearby Playa Aventuras can help you to access a wealth of cenote dives along the vast coast.
8. Costa Rica
The Pacific waters off of Guanacaste in northern Costa Rica are well known for their encounters with large schools of cow-nose or eagle rays and horse-eye jacks. Bull sharks can be found at Cat and Bat Islands. These cooler, nutrient-rich waters also bring in pelagics, including mantas, spinner dolphins, humpback whales, pilot whales, and whale sharks. Further south near Costa Rica's border with Panama, Corcovado and Coiba National Parks offer pristine diving. However, access here is limited to a few operators and liveaboards with the main attraction of this southern dive region being schooling hammerheads.
9. The Galapagos Islands, Ecuador
The Galapagos Islands have ignited the imagination since the days of Darwin. The Darwin Foundation has preserved these nutrient rich islands from getting wrecked by tourism, protecting the many whale sharks, hammerheads, dolphins, and seals that the islands attract. Legendary hammerhead and whale shark encounters most often take place off of the islands Wolf and Darwin. Since landing is not permitted on these islands, liveaboards are the only way to tap such awesome experiences. Only a limited number of liveaboard permits are granted, so if you're craving some one-on-one time during whale shark migration season (May to October), be sure to book well in advance!
10. Semporna Archipelago, Borneo
Located off the coast of the Malaysian state of Sabah, this is where giant sea turtles swim alongside schools of sleek reef sharks, and vertical walls drop thousands of meters from the edge of powder-soft beaches into mysterious blue depths.
The best known snorkeling and dive islands are Mabul and Sipidan, located in the southern end of the archipelago. Stay at one of a handful of dive resorts in Mabul, since tourists are not allowed to sleep on the protected island of Sipidan (the government allows only 120 passes to the island a day, which you should secure in advance from a dive resort). We recommend Borneo Divers, the original operators for the region who first introduced ocean explorer Jacques Cousteau to Sipidan, and catapulted the destination into the stuff of diving legend. Mabul offers some spectacular muck-diving around an old oil rig that's been converted into an off-shore hotel. However, Sipidan is what really attracts divers from across the globe, with famous dive sites such as Barracuda Point where you can literally swim in the eye of a tornado-shaped formation of circling barracuda flesh.
Source: mensfitness.com