SKI the ALPs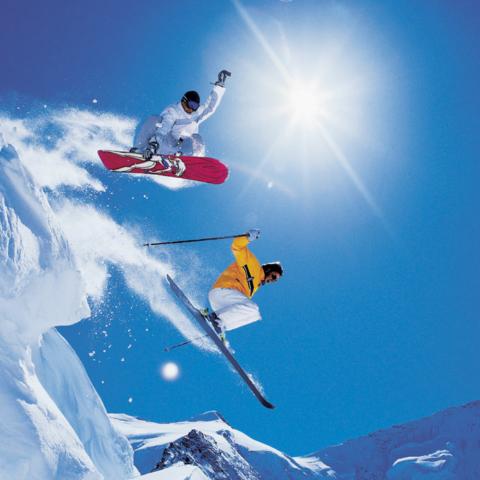 The Alps is one of the biggest mountain systems in the world, passing through eight European countries. Containing some very impressive mountain tops, it is also a place where it snows a lot, making it ideal for skiing. Here are seven of the best ski resorts found in the Alps.
1. Chamonix, France. This a French mountain resort found in Mont Blanc, which is the highest mountain in the Alps system, making it an ideal place for high mountain ski. There are some dangerous areas here recommended only for advanced skiers, but there are 69 ski tracks that cover 108 kilometers from which all types of skiers can choose.
2. Zermatt, Switzerland. It is a quiet place as cars cannot enter the village. Tourists have to rent a horse-drawn carriage to be able to come into town. Located at an altitude of over 3,000 meters, it is a great place to sky all year long.  There are over 200 kilometers of slopes for all difficulty levels, from which 21 kilometers are useful during summer time.
3. Ski Schladming Resort, Austria. There are 250 kilometers for cross country skiing, 6 ski tracks for advances skiers and 18 tracks for intermediates. 25 ski lifts and 120 snow guns provide the best skiing conditions for tourists. The resort is near the border with Germany and one hour away from Salzburg.
4. Crans-Montana, Zwizerland. Above the Rhone Valley, at 1500 meters altitude, Crans-Montana offers panoramic views of the natural landscapes of Valais Alps. Because it is at a high altitude, it is a perfect place to ski throughout the year. When the snow is not good enough for skiing, tourists can enjoy 5 swimming lakes located in the resort. The longest ski track has 12 kilometers and is good for more advanced users.
5. Kranjska Gora, Slovenia. Located in the Julian Alps, it is one of the main ski resorts in Slovenia. It is also a good place to spend Christmas and New Year's Eve as several events will take place there. During 25 and 30 December in the middle of the frozen waterfalls there will be a "Live Christmas Crib in Ice" performance, while a grandiose firework show will end the year. 40 kilometers of cross-country ski will keep tourists busy while the most courageous can try ice climbing on the frozen waterfalls.
6. Achensee Pertisau, Austria. 54 kilometers of slops and 150 kilometers of cross-country trails will keep skiers of all levels entertained. The altitude is between 200 meters and 900 meters, so it is a good place to ski only during winter time.
7. Malbun, Liechtenstein. Those looking for a less crowded ski resort with good skiing conditions can come here. Even if there are just a few hotels, not too many places to go shopping, and not even many kilometers to ski; it is a very peaceful, romantic getaway located at an altitude of 1600 meters where the conditions remain good all the time.
Source: travelhunch.com