Try B.A.S.E. JUMPING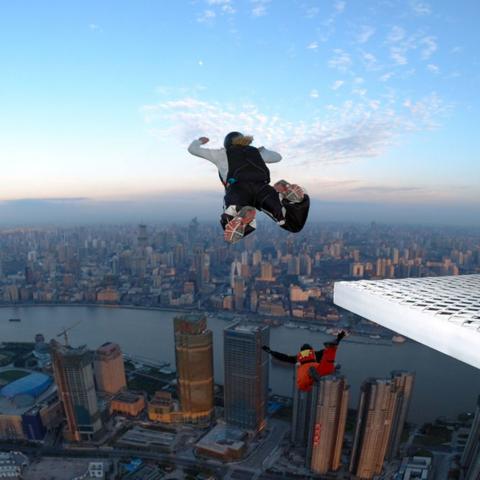 When most visitors go to the top of places like the Eiffel Tower in Paris, the CN Tower in Toronto, the Golden Gate Bridge in San Francisco, or Half Dome in Yosemite National Park, they're in search of awesome, sweeping views and gorgeous photography opportunities. However, there are a select group of people who visit these same spots and are intrigued by only one thing–how difficult would it be to strap on a parachute and jump off of them?
For BASE jumpers, leaping out of an airplane at 15,000 feet and freefalling at well over 100 mph isn't quite daring enough. To make things more interesting, they jump off various cliffs and man-made objects, usually at a low altitude with only a few seconds to deploy the parachute, and virtually no time at all to deal with problems or malfunctions. BASE jumping is so incredibly risky that it's actually illegal in many places.
Famous base jumping locations
1. Angel Falls
The world's highest waterfall, found in the depths of the Venezualan jungle, have a vertical drop of 2,600 feet. The falls are found in a national park, so a permit is required to jump off.
2. El Capitan
The southwest face of this epic rock formation in the Yosemite National Park is 3,000 feet from base to summit, and it is a hugely popular destination for climbers. BASE jumping is, however, banned by the US National Parks Service.
3. Mount Thor
Found in the Auyuittuq National Park on Baffin Island, Canada, Mount Thor is famous for possessing the greatest purely vertical drop on Earth (4,101 feet). The twin peaked Mount Asgard, also on Baffin Island, is equally impressive.
4. Table Mountain
Renowned BASE jumper Jeb Corliss, who has leaped from Angel Falls, the Eiffel Tower, and the Golden Gate Bridge, nearly died when he attempted to jump from Table Mountain  wearing a wingsuit. He did not have permission to perform the stunt, so was hit with a fine, as well as suffering from two broken ankles.
5. Trango Towers
The Trango Towers are a group of granite spires found in the Gilgit-Baltistan region of Pakistan. The east face of the Great Trango Tower features the world's greatest nearly vertical drop, of 4,396ft.
6. Troll Wall
The Troll Wall, in Norway's Romsdalen valley, has long been a favourite haunt of BASE jumpers, although the practice has been banned here since 1986, due to the difficulty of rescuing injured jumpers, or retrieving the bodies of deceased ones.
7. Eiger
The Eiger lies in the Bernese Alps in Switzerland and is popular with BASE jumpers.
8. Perrine Bridge
This 457-metre bridge, which sits 148 metres above Idaho's Snake River, is the only manmade structure in the US where BASE jumping is allowed all year, without a permit. In September 2005, Miles Daisher set a world record by jumping off the bridge 57 times over a 24-hour period.
9. Kjerag
The Kjerag is a Norwegian mountain, whose northern face features a 984-metre drop to picturesque Lysefjorden, making its understandable popular with BASE jumpers. Between 1994 and 2008, 29,000 jumps were performed here.
10. New River Gorge Bridge
Each year, on the third Saturday in October, the New River Gorge Bridge plays host to hundreds thrill-seeking BASE jumpers, and thousands more interested onlookers. Bridge Day began in 1980, and sees around 400 daredevils hurl themselves towards West Virginia's New River, 267 metres below.
11. Burj Khalifa
Several BASE jumpers have leapt off the world's tallest building since its construction began in 2004. In 2008, Frenchman Herve Le Gallou and Briton David McDonnell breached security by dressing as engineers, before jumping off a balcony just below the 160th floor. And in 2010, authorities permitted two BASE jumpers to leap from a crane attached to the 160th floor, allowing them to break the world record for the highest BASE jump from a building.
12. Cave of Swallows
This open air cave in Aquismon, Mexico, features a 370-metre drop from its highest side, and has been tackled by a number of BASE jumpers, although the activity is now banned.
Source: telegraph.co.uk