Try CANYONING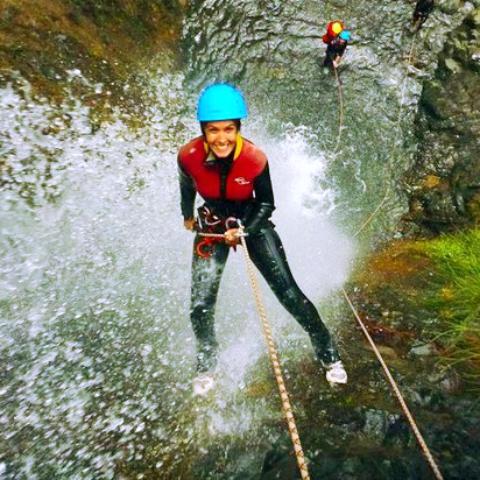 WHAT IS CANYONING?
Imagine a hybrid journey consisting of rapeling and rock climbing through river carved tunnels and over waterfalls. Yes, you're going to get wet, so don't even think about this if you have a fear of messing up your hair. This sport is getting more and more popular every year as equipment becomes safer and easier to acquire. While there are places for the novice, this is not a sport for the weak and some of the more difficult areas have minimum age requirements. Some countries even have restrictions for good reason, so please do your research, and most importantly have fun.
Here are ten places around the world where you can find some truly world class canyoning and find companies that will take you on a tour. Each location has many different tour groups who will take people on half day up to two week trips, so there is something for everyone.
1. INTERLAKEN, SWITZERLAND
Probably one of the more famous locations, Interlaken is known for its Canyoneering and many other adventure sports which bring in thousands of people every year. Even if you don't go canyoning in Interlaken, you can't come away from here without at least knowing about it.
2. NEW ZEALAND
The Blue Canyon and the Sleeping God canyons are both necessities of any canyoning trip to New Zealand. New Zealand is one of the worlds most beautiful places, which is why it serves as the backdrop for some of Hollywoods famous blockbuster hits. Imagine dropping down into a huge waterfall, making huge jumps, and zip lining to reach the other side of a canyon. You can do that all here.
3. COSTA RICA
The rain forest isn't all trees and strange animals, its also home to some of the coolest canyoning you'll find around. How does dangling in the canopy of the trees over a waterfall, with an active volcano in the area sound? 80 percent of Costa Rica is National Reserves and World Heritage sites, so you will have no trouble finding a pristine atmosphere to enjoy on your canyoning trip. Make sure to check out the cloud forests while you're there.
4. ZION, UTAH
You don't have to go around the globe for a chance at good canyoning. Zion National Park is some of the best canyoning you will find in the United States and it will not disappoint. Its well known for its slot canyons, but beware of the rainy seasons, as the slot canyons are the last place you want to be during an April shower.
5. COPPER CANYON, MEXICO
If you are looking for a very remote trip, look no farther than Copper Canyon. It is likely to be one of the most remote areas in the world for canyoning. Local shops can set you up with trips around 10 days to cross the entire canyon. R?o Tararecua, R?o Urique, R?o Verde, R?o Guerachi, and R?o Oteros all help carve out the spectacular scenery around the area.
6. SYDNEY, AUSTRALIA
There are over 400 canyons within an hours travel of Sydney making this ones of the more dense canyoning regions in the world. The best time to plan a trip is September through May as the Blue Mountain region is a bit more tame. You'll surely enjoy the World Heritage site.
7. CAPE TOWN, SOUTH AFRICA
Canyoning, Canyoneering, Kloofing. Its all the same, but that last funny sounding one is what Africans refer to this adventurous activity as. Not far from Cape Town is one of the more popular Kloofing spots in the country. A dozen waterfalls and drops up to 80m make Sluicegates a wild experience that you'll never forget.
8. SIERRA DE GUARA, SPAIN
Located in the Spanish Pyr?n?es where canyoning is a fairly new sport, you shouldn't have much trouble booking a trip and its canyons are fairly accessible making this a trip where you can leave the headaches at home. Make sure you still where your helmet however…
9. JAPAN
Minakami, Agatsuma and Akagi areas are popular canyoning destinations in Japan. Some of these tours feature some tight chutes and bends that the claustrophobic may find a bit daunting, but fear not, you're here for adventure! Japan has a beautiful natural landscape and canyoning here is literally and insiders view to the island so don't pass up the chance.
10. INDIA
Whether its in Goa, or the Himalayan base, India is a cultural spice rack that will enhance any canyon trip.
Source: explorethere.com