Try ICE CLIMBING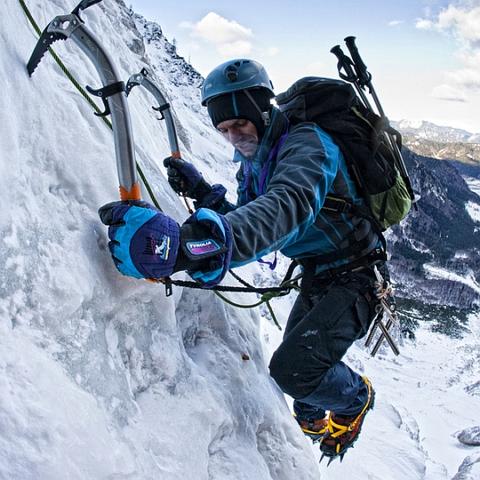 Rock climbing not extreme enough? Want to add freezing temperatures and slippery walls to the mix? Ice climbing is the pinnacle of extreme sports. Scaling a vertical cliff side covered in ice with nothing but a couple axes and a pair of crampons is not for the faint of heart. If you're looking for your next big challenge, here are 5 of the world's best places to go ice climbing.
1. Ouray, Colorado
Colorado, as a veritable playground for all manner of wintertime activities, hosts one of the country's best ice climbing hot spots (or… cold spots?). Ouray, Colorado is sometimes referred to as the "Switzerland of America"–and for good reason. The Ouray Ice Park is home to more than 200 climbs, most of which are within a 15-minute walk of the park's entrance. The climbing season is December through March, and the annual Ouray Ice Festival takes place every January. The festival, widely recognized as the premier event of its kind, is a major international gathering of world-famous climbers and gear manufacturers.
2. Valdez, Alaska
Valdez, Alaska is located on the northeast side of Prince William Sound. Valdez is the site of dozens of climbing walls and frozen waterfalls. The Keystone Canyon is perhaps the area's best-known ice-climbing site. The Canyon is loved for its quality, length and accessibility. Keystone's most popular walls are Keystone Greensteps and Bridalveil Falls. Other climbs can be found in Mineral Creek, Solomon Gulch, Hole in the Wall Canyon, Bear Creek and Sheep Creek. There is a 17-mile wall on the north side of the highway leaving Valdez, and a 19-mile wall west of the highway.
3. Rjukan, Norway
The leading ice-climbing site in Northern Europe, Rjukan, Norway only just reached notoriety within the past couple decades. Prior to the 1990s, there existed little literature on Rjukan's ice-climbing opportunities.The publishing of climbing guides was pivotal in bringing Rjukan to public consciousness. Now, Rjukan is divided into 6 distinct climbing areas with dozens of high-quality walls. Freezing Arctic winds make for a long climbing season that ranges from late October to late March. Due to short days and extreme weather conditions, it is recommended to avoid climbing in December and January when possible. February and early March provide more favorable conditions.
4. The Alps, Switzerland
It should come as no surprise that one of the world's best areas for ice climbing is the Swiss Alps. The Alps are full of ski resorts and ice climbing walls, many of which cater heavily to tourists. If you're a newbie looking for expert guidance, there are a number of ice-climbing locations where experienced climbers will teach you how to scale frozen waterfalls up treacherous mountainsides. One of the premier sites is Kandersteg, which is home to a number of famous routes, primarily in in the mid to higher grades. Kandersteg hosts an annual ice climbing festival as well as a week-long course for experiences climbers.
5. The Rocky Mountains, Canada
Canada is a big, big place with ample ice-climbing opportunities. For one the most satisfying ice-climbing experiences in North America, head to the Canadian Rockies. Famous routes include the Terminator Wall, the Weeping Wall, Ghost River and Cascade Falls. The Canadian Rockies offer breathtaking views of sparkling winter landscapes and the chance to encounter moose and elk. For guided programs, visited Banff National Park in Canmore, Alberta. Here you can participate in ice climbing, rock climbing, hiking, backpacking and skiing programs regardless of your level of experience.
Source: nerdwallet.com