Try SAND DUNE BOARDING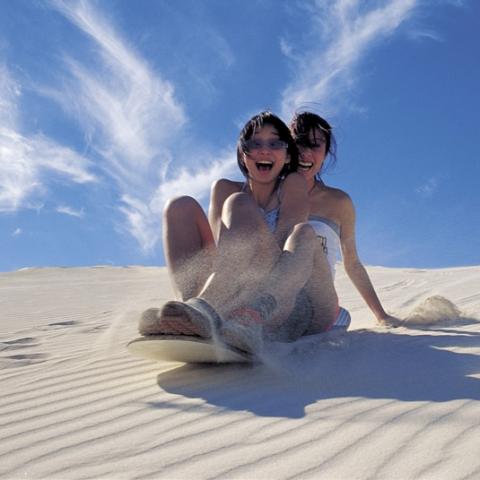 Sandboarding is a board sport similar to snowboarding. It is a recreational activity that takes place on sand dunes rather than snow-covered mountains. This boardsport has adherents throughout the world, most prevalently in desert areas or coastal areas with beach dunes.
It involves riding across or down a dune while standing with both feet strapped to a board, though some sandboarders use a board without bindings.
Josh Tenge, professional sandboarding champion, holds the Guinness Book of World Records entry for the longest-distance back flip at 44' 10''. Tenge is also a four-time world sandboarding champion and holds three world records.
World Events:
-Sandboarding World Championship – The SWC was held annually in Hirschau (until 2007), Germany at Monte Kaolino, currently also the site of Europe's largest sand hill. Riders can board down dunes over 300 feet (91 m) tall, riding into a water landing site at the base of the hill. It has a sand lift, the only one in the world. Events include slalom (akin to snowboarding's parallel giant slalom), freestyle (similar to freestyle snowboarding) and sandboard cross.
-Sand Master Jam – Annual sandboarding event that takes place in Florence, Oregon at Sand Master Park. This event occurs in late spring or early summer. The Sand Master Jam has been held since 1996.
-Pan-American Sandboarding Challenge – This event takes place in July in Aquiraz, Ceara, Brazil at Prainha's Beach. It features amateurs and professionals who wish to compete in freestyle and jump events.
-Sand Sports Super Show – Annual outdoor event for all sand sports, including sandboarding. This three-day event takes place in September in Costa Mesa, California at the Orange County Fair and Expo Center.
Source: wikipedia.org