Try ZAPCAT RACING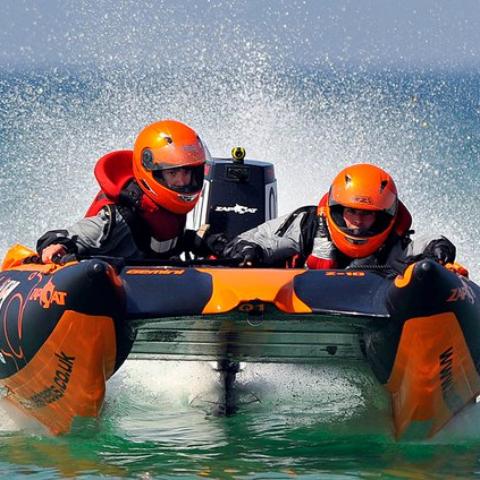 Zap-Cat Racing is an extreme boating sport which is water-sport in which a boat (the Zap-Cat) is driven at very high speeds against its competitors in a bid to become the overall winner. Sounds pretty simple but when the waters are rough and the boat is going at a very speed the task is a little less than easy. This is an awesome sport and you can go see them race around the world.
- A Zapcat has a better power to weight ratio than a Ferrari Testarossa.
- Capable of handling extremely rough seas and large surf.
- A wave large enough to break over the boat will not cause the Zapcat to flood.  As the water runs out the open back.
- Built for racing - will last & last due to its tough aluminium transom, composite spoiler and inflatable tubes manufactured from the highest quality European P.V.C fabric.
- Excellent fuel efficiency - over 5 times more fuel efficient than regular powerboats.
- Easy to tow - at only 270 kgs on its trailer, it will not slow you down.
- Folds down to less than 2m3 - you can pack a Zapcat away and transport it in the boot of your car.
- Catamaran design keeps the Zapcat stable when stationary.
- A Zapcat produces almost no wake, so you will not annoy other water users.
Source: fiked.com, extremesportscafe.com