Try stand-up PADDLEBOARDING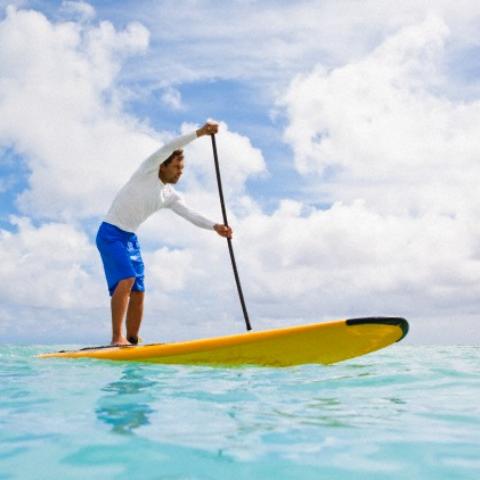 Stand up paddle boarding (SUP) is fast becoming one of the most popular watersports, especially in locations with flat conditions and beautiful scenery.
You don't need a killer set of waves to ride a stand up paddleboard: In fact, the gentle breaks in these 10 sunny locations are ideal for SUPing newbies and experts alike. Grab a paddle, a board—and hit the water.
1. Sunset Beach, Oahu, Hawaii
Fantastic for both surfing and standup paddle boarding, Sunset Beach on the north shore of Oahu is legendary and with reason. If you happen to visit in the calmer summer months, you can paddle the 4 miles from Sunset Beach to Waimea Bay.
2. Steamer Lane, Santa Cruz, California
Santa Cruz provides a range of great breaks for all experience levels, from beginner to experienced. In addition to the shoreline, Covewater SUP of Santa Cruz leads tours through Elkhorn Slough, one of two remaining salt marshes in California, which gives you the opportunity to spy sea otters, harbor seals, and numerous species of birds.
3. Sayulita, Nayarit, Mexico
Located only 27.5 miles (44.3 km) north of Puerto Vallarta and just past Punta Mita, Sayulita is a quiet enclave with a big paddle following. The area hosts the Punta Sayulita Longboard & Stand Up Paddle Classic, which is becoming a big event for North American paddlers. However, if you'd rather paddle the Atlantic side of Mexico, Playa del Carmen is also a great spot to start.
4. Bali
In the middle of Indonesia, Bali has long been known for its lush vegetation and temples, but it also has a growing following as a surf destination. While many tourists flock to the Kuta area near the airport, we suggest some of the slightly calmer, but much less crowded, beaches to the north, like Balian and Medewi. On the opposite side, Sanur is a great spot to check out for SUP.
5. Malibu, California
Californians can debate for hours about which spots are the best, but votes were unanimous for Malibu amongst stand up paddle boarders. Gorgeous views, perfect weather, and miles of beaches to choose from exemplify why this city has been synonymous with surfing for years.
6. South Africa
With its wide variety of waves and gorgeous scenery, South Africa is a natural choice for those who want to try stand up paddle boarding while in Africa. If you're visiting Cape Town, some ideal spots are Sunset Beach and Blouberg to the North of Table Mountain; to the South, Muizenberg and Strand are recommended. Langebaan Lagoon, located about an hour north of Cape Town, is a protected spot perfect for beginners and first-timers.
7. Chorrillos, Peru
While Peru might seem like an unlikely spot to catch some waves, Chorrillos hosted the World SUP & Paddleboard Championships this past February. Located just south of Lima (though still considered in the city proper), Chorrillos offers a number of great beaches and a fun option for paddle boarders who want to explore South America.
8. Namotu Island, Fiji
This island resort is uniquely located relatively close to all of Fiji's best breaks, including the notorious Cloudbreak, making it a particularly apt spot for water sport connoisseurs. For a less risky ride,Swimming Pools is ideal.
9. Perth, Australia
While surfers looking for big waves head to New South Wales, the best spot on the Australian continent for standup paddle boarding is Perth, the largest city in Western Australia. VirtualTourist members recommend Cottesloe Beach for visiting enthusiasts, but also noted that any fan of watersports should take a day trip to nearby Rottnest Island.
10. St. Lucia
If you're looking for a spot in the Caribbean, St. Lucia offers the perfect combination of calm waters, luscious scenery, and secluded bays for exploring by paddle board. The island's twin pitons, rolling rainforests, and turquoise waters provide ample eye candy during one's workout.
Source: mensfitness.com