Walk across the SIMPSON DESERT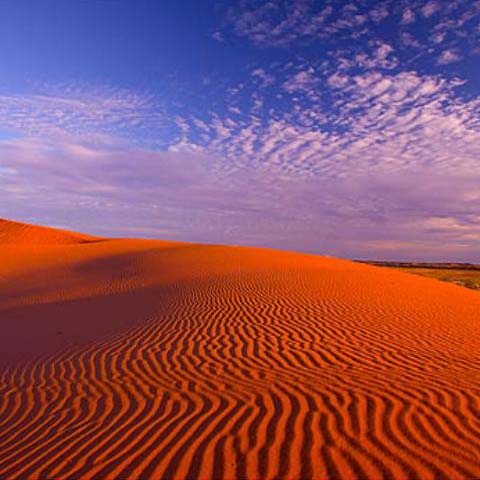 The Simpson Desert is a large area of dry, red sandy plain and dunes in Northern Territory, South Australia and Queensland in central Australia.It is the fourth largest Australian desert, with an area of 176,500 km? (68,100 sq mi) and is the world's largest sand dune desert.
The desert is underlain by the Great Artesian Basin, one of the largest inland drainage areas in the world. Water from the basin rises to the surface at numerous natural springs, including Dalhousie Springs, and at bores drilled along stock routes, or duringpetroleum exploration. As a result of exploitation by such bores, the flow of water to springs has been steadily decreasing in recent years. It is also part of the Lake Eyre basin.
The Simpson Desert is an erg which contains the world's longest parallel sand dunes. These north-south oriented dunes are static, held in position by vegetation. They vary in height from 3 metres in the west to around 30 metres on the eastern side. The largest and most famous dune, Nappanerica, or more popularly Big Red (named by Simpson Desert traveller Dennis Bartell), is 40 metres in height.
No maintained roads cross the desert. The Donohue Highway is an unpaved outback track passing from near Boulia towards the Northern Territory border in the north of the desert. There are tracks that were created during seismic surveys in the search for gas and oil during the 1960s and 1970s. These include the French Line, the Rig Road, and the QAA Line. Such tracks are still navigable by well-equipped four-wheel-drive vehicles which must carry extra fuel and water. Towns providing access to the South Australian edge of the Simpson Desert include Innamincka to the south and Oodnadatta to the southwest; and from the eastern (Queensland) side include Birdsville, Bedourie, Thargomindah and Windorah.
Source: wikipedia.org