ZIP LINE in Monteverde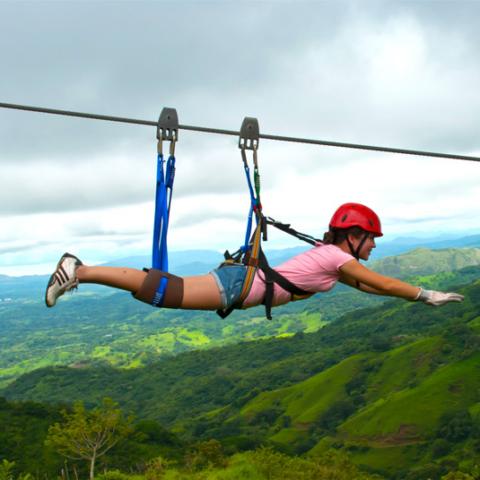 Monteverde is a small town in Puntarenas, Costa Rica, located in the Cordillera de Tilar?n. Monteverde is considered to be one of the major ecotourism destinations in Costa Rica. Famous in Monteverde, is the Monteverde Cloud Forest Reserve which draws in countless visitors and naturalists.
Glide through the rainforest treetops on the most exhilarating canopy tour through the Monteverde Cloud Forest Reserve. You will take the form of a tropic bird taking flight, nothing but the hovering clouds to separating you from the lush ecosystem. It's a perfect experience for those interested in the exotic wildlife and have the daring instincts of fellow skydivers or bungee jumpers.
This particular rainforest boasts an incredible amount of biodiversity due to it's heavy veil of tropic clouds. It causes a slower rate of evaporation, giving the plants plenty of nourishing moisture.
The Monteverde Cloud Forest Reseve contains 100+ species of mammals, 400 species of birds, and 1,200 species of reptiles and amphibians. It's also one of the last habitats to be home to all six species of the cat family (jaguars, ocelots, pumas, margays, oncillas, and jaguarundis).  Roar!!
If you're interested in staying on solid ground while exploring the forest, there's over 8 miles of trail to conquer. An epic adventure if you're looking to fully immerse yourself in the natural beauty of Costa Rica. Let's do this!
Source: livenowbeforeyoudie.com